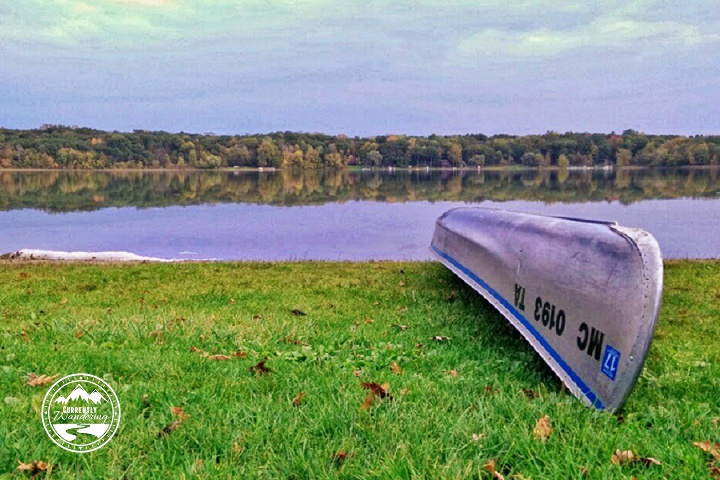 Our visit to the Bruin Lake Campground of the Pinckney Recreation Area was intended to be a little quiet and boring. Our loop of Lake Superior and subsequent re-entry into the USA and visits with friends left us with a list of stuff that just needed to get done. We even passed on a wonderful invitation to a nearby art show just to have a little peace and quiet. The park was perfect. Peace and quiet abounded, and Jess and I were knocking down to-do list items right and left. The limited recreation options nearby made it easy to focus on working hard.
The trouble was the lake. It is beautiful, and the fall weather was amazing. We were surprised to find that canoe rentals were still possible despite being well past labor day. Hmm… I thought, a canoe rental sounds great.
It was such a good idea, yet somehow, I completely managed to botch it.
A sign near the entrance to the park provided the phone number of the park concessionaire that offered the canoes for rent. The canoes themselves where already on a rack trailer near the boat ramp, but paddles and lifejackets were provided after you paid for a rental. I called the number listed and talked to the rental guy, who also happened to be running an ice-cream shop in the nearby city of Hell, Michigan. With a rental, he would swing by and drop off our gear in the morning, at the price of $42 per day. He even offered to let us keep the gear till we left (3 days total) for just $50.  I told him that we'd think about it, and hung up.
Round One of Sam vs the Canoe Rental was a game of mental issues. The price had been higher than I was expecting, and I was slightly reluctant to fork out that much money. I imagined that I'd probably get a paddle in per kid, and perhaps two with Jess. In my mind, it was hard to weigh that money against the value. I was also worried about being distracted when I was really trying to get stuff done. The shop closed at 5pm, and I hadn't made up my mind by then. I was still kind of thinking about it, but I wasn't sure.
Round Two of Sam vs the Canoe Rental was unfortunate timing. I got up early the next day and plowed through an incredible pile of work and various chores. I pushed through a pile of work till the afternoon, when I spent an hour or so playing frisbee with the kids during what became a spectacular fall afternoon. I began to think about the canoe again, but decided not to push it. I really try to avoid trying to 'improve' something that is already great, and we really had fun throwing the disc around.
The next day was another good workday, but our focus was wearing a bit. About 2 in the afternoon I took a break and resolved to do this canoe thing. I called the rental guy back, only to discover that he was on the way to a doctor's appointment and would be out the entire afternoon. I couldn't even drive to pick up the gear, as the shop was closed in his absence. I really needed a break that afternoon, but it wasn't going to be paddling. Jess and I snuck away for some ice cream later that night, but I was still missing a paddle.
At this point, it was time to give up. The original (and in retrospect, generous) offer to keep the gear for 3 days for only $50 had reached it's effective limit. We already had plans to visit the Jiffy factor in nearby Chelsea and wouldn't have much time past that.
It is also worth considering why we don't travel with a canoe or kayak, since I do enjoy it so much. Given our small space situation, we have to be pretty picky about what we travel with. We travel with bikes for the whole family, and there just isn't enough room for both bikes and boats. We do use the bikes quite frequently, and I do love to ride. We normally have no problem renting canoes or kayaks while we explore, but we've discovered that the off-season limits our opportunities.
So here we have been, right next to some particularly nice paddling lakes, and no canoe. The real lesson here is that I should have immediately agreed to the original offer on the spot. We all would have enjoyed some time out on the lake, and it would have been a wonderful activity to break up the otherwise work filled week.
As it happens, Jess and I walked over to the canoe rack to take the above picture to tell this story. To our surprise, there was a paddle sitting nearby, as if somebody had rented the canoe for the day and left the gear for pickup. We might have borrowed the canoe for a few minutes. It was a fun few minutes, but our short paddle only confirmed that I really should have jumped on it when I had the chance.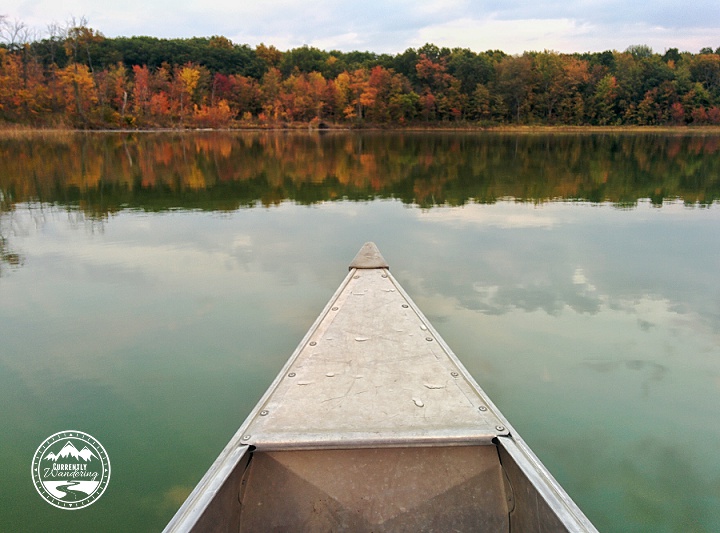 Related posts: