Travel Dates: Dec. 3-13, 2015
We visited the Emerald Coast on our way east to west 2 years ago (blog post about that here) at the beginning of our crazy journey. We drove through this area way too fast and swore we'd come back and stay longer.
This time we wanted to try a different state park so we stayed at Grayton Beach. The campground isn't right on the water (slightly annoying) but the sites were fairly secluded and it was peaceful.
We had some great beach time, ate at the Airstream food trucks in Seaside and even managed a visit to Santa Claus in nearby Destin.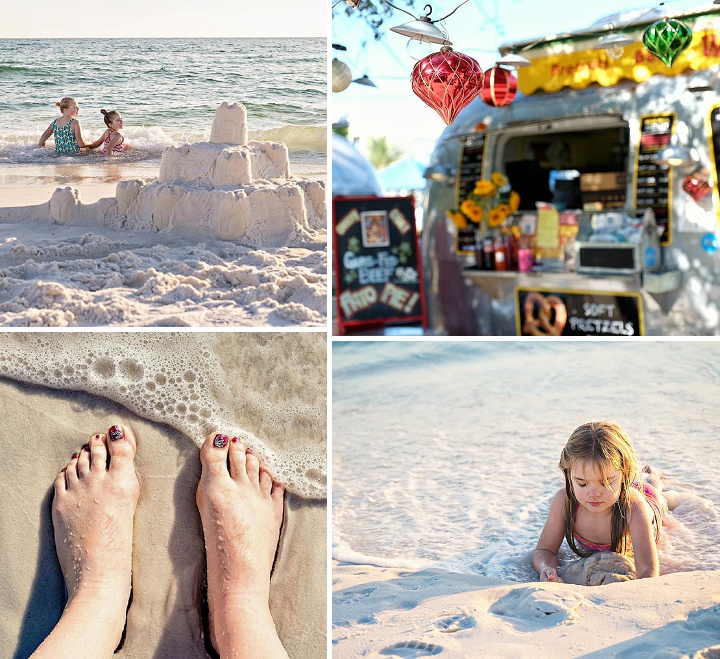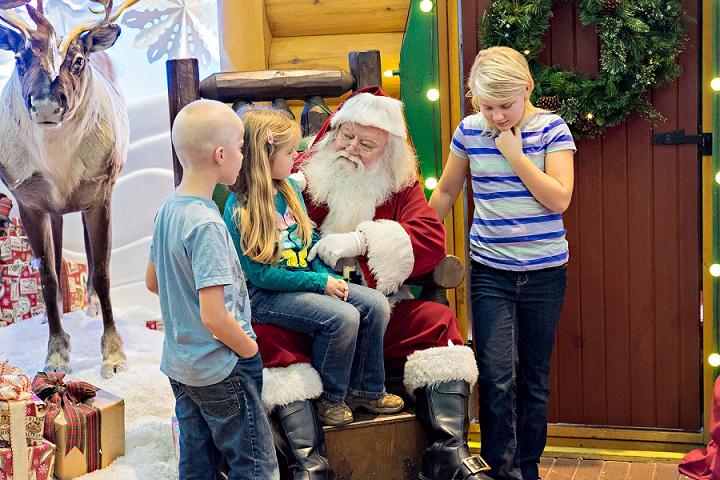 We also met some friends at church who are thinking about buying TWO Airstreams (one to sit and live in on the property, one to travel in) so we had them over to get a glimpse of what our life is like.
A new cast iron pan, a bike ride on the nature trail and a beautiful sunset topped off our 6 day stay.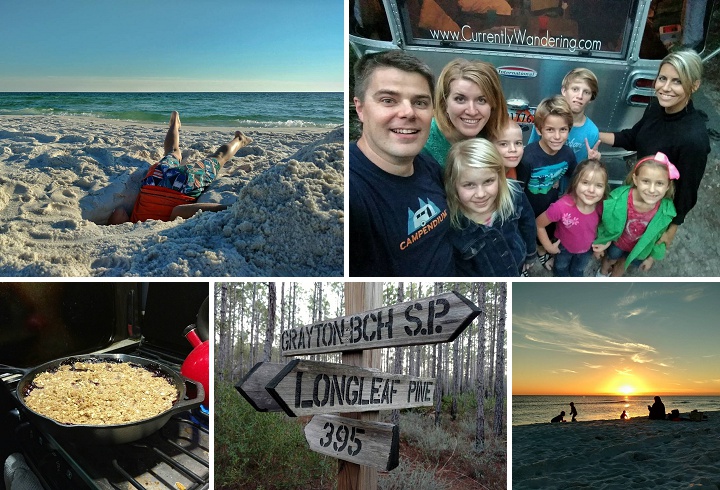 After leaving Grayton Beach State Park, we drove only about another hour and half towards Panama City Beach. We had visited Saint Andrew's Park two years ago, but the weather was cold enough we didn't get to see a lot.
This time the weather was beautiful! We picked up some boogie boards at a surf shop and the kids spent an entire afternoon riding the waves.
Our last body boarding adventure was over a year and a half ago (in southern California), but the kids took right to it. Cara, only 3 last time, picked it right up. With a few minutes of instruction from Rachel, she was catching pretty good rides. The beach here is perfect for kids, with a fully sandy bottom and gentle slope. It was a joy to see them shriek with excitement each time they got a ride.

We try to not swim at the beach EVERY day (gotta give those swimsuits a chance to dry out!) so  one afternoon we escaped out to the beach for a much needed break. We visited the old turpentine still, carved faces into the sand, and practiced our dune jumping. Rachel was suffering from a bad case of a bad mood, and it translated directly into school struggles. After our afternoon wander, she was doing much better. It always amazes us  how a little wandering improves all of our moods.


We stayed longer than normal in the last few spots and it was kind of weird. Like we are actually getting caught up on life. A few more weeks of this and we might actually get ahead! We had one last wander down the beach on Sunday afternoon and found this Merry Christmas sandman. A perfect ending to our great stay along the Emerald Coast. 

Next we head farther southeast into Florida. First stop Tampa, and then Christmas in the Florida Keys!
Related posts: