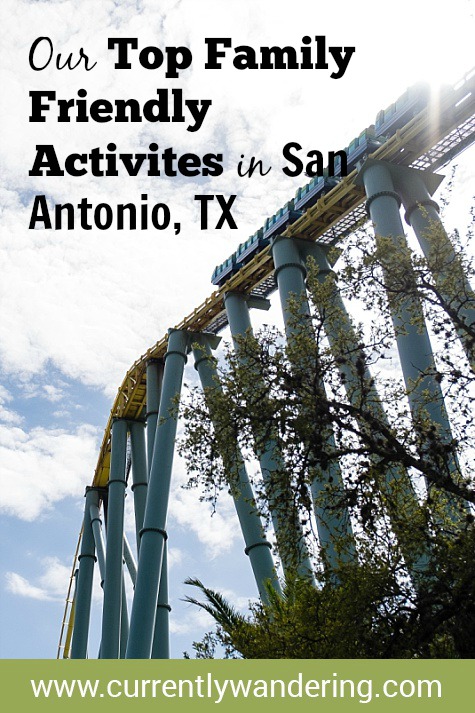 We had never been to San Antonio before this spring, but had heard it was a favorite city of many of our friends. Expecting to act like a tourist, I contacted the San Antonio Visitor's Bureau and they graciously provided us with Passports which included free admission to many of the top attractions in the city. Although there are FAR too many activities to do in just one week, @livinginthemomentum and we did a pretty good job trying!
When We Visited: March 21 – 28, 2016

Ages of Kids: 10, 8, 5

Where We stayed: We stayed at the San Antonio KOA so we could be 15 minutes from downtown. We chose one of the non-paved driveway spots (because we are cheapskates) and were lucky enough to also be joined by @joehendricks and his family for a few days in addition to Momentum who was parked on the other side of the campground.
Photo Credit: @joehendricks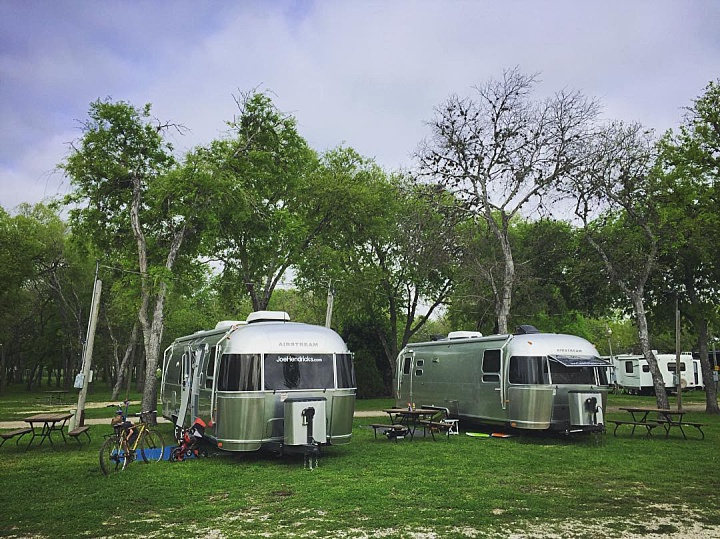 The Alamo, Tower of the Americas, Hemisfair Park
The day after we arrived, we journeyed downtown in the afternoon to explore. Our first stop was none other than the famous Alamo. There's an introduction video which was pretty good at explaining the events surrounding the attack on the Alamo (spoiler alert! The Mexican army wins!), and then we were able to see the inside and walk around the grounds. While the inside was beautiful, my kids were quickly bored with reading the displays and begged to go outside.
We did find a gentleman in the amphitheater who told us about the many guns and weapons the soldiers fighting at the Alamo had used. He was awesome and kept the kids entertained for 15-20 minutes.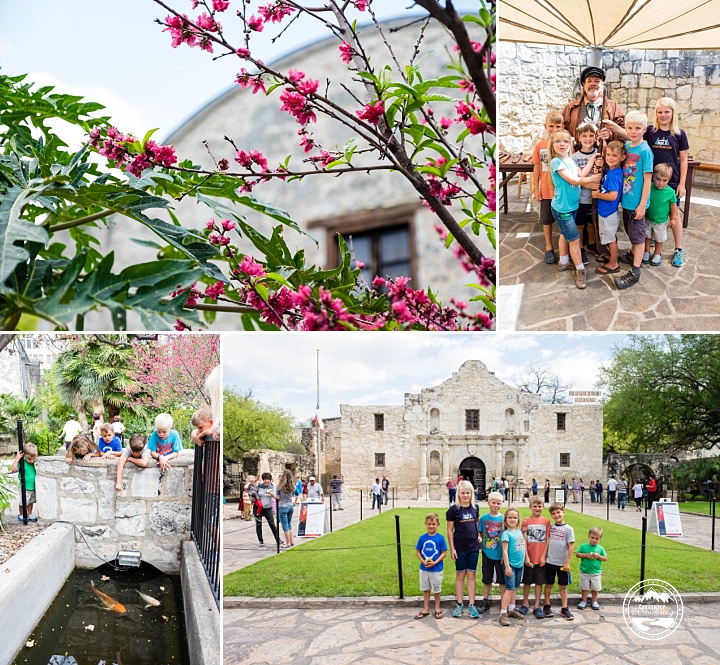 After the Alamo, we walked over to the Tower of the Americas. There's a 4D movie at the ground level, and then you can ride the elevator up to the top for sweeping views of the city. I know it was spring, but I'm still shocked at how GREEN everything was. Super beautiful from up in the tower! The kids did okay in the movie – 4D is not generally their favorite but they gave it a go. At one point a rattlesnake strikes out at you, and I felt the seats jerked around unnecessarily for effect but overall it was fun.

Once done with that, we went to the Hemisfair Park where we had been tipped off about a really great playground. It was no joke! The kids could have spent all day here. Ping pong tables, life-sized chess boards, an awesome climbing play structure, and the weather was warm enough the splash pad was turned on! We hadn't expected this and didn't have our suits, but the kids stripped down as best they could and ran around getting soaked anyway!

Sea World San Antonio
A few years ago, the kids, grandma, and I took a spontaneous spring break trip to San Diego, CA to visit Sea World there. Since it had been a few years (and they kids really loved it) I was excited to check out Sea World San Antonio. Learning from our mistake earlier in the week of not packing swimsuits, we made sure to grab ours this time as I knew there was a splash park. We also packed lunch & snacks in a small cooler and just planned on buying dinner or late afternoon snacks depending on how long we ended up staying.
Parking is $20, but no hassle to get in, and then we were able to pick up our complimentary tickets from one of the kiosks. Love it when parks have these as it sure beats waiting in line!
Since it was just the kids and I, and we are past needing a stroller I also splurged at spent $15 on a locker for all day. One we could get in and out of as needed and located centrally in the park. We stashed our lunch cooler and swimsuits to come back and get later.
Our first stop was the Beluga Whale show. The trainers did a great job of explaining and showing us various characteristics of these incredible animals. This show was definitely designed to be informative rather than pure entertaining which I actually liked a lot.

After the show we ate our lunch quick and the kids changed into their swimsuits for the splash park! Honestly, I think they could have just stayed in the Sesame Street Bay of Play all day. There are definitely cheaper ways to visit a splash pad and playground, so after an hour or so I dragged them away to another show.


Sea World does a great job of spacing their shows out so that its easy enough to hit most of them. The kids loved Sea Lion High – a comedy where the sea lions are trying to finish up their high school subjects so they can graduate on time. Lots of fun and laughter!
Azul is a beautiful show involving acrobatics, humor, high divers, and the beautiful dolphins and beluga whales. The kids were on the edges of their seats almost the entire time!



Very last we watched Shamu and the other Killer Whales. I know there is a lot of controversy surrounding these animals and I'm not getting into that, but Cara LOVED seeing these beautiful mammals. However, the kids were fairly bored with the show itself.  There was a lot of swimming around and splashing the audience, and I think I would have preferred a large aquarium where we could just sit and watch them rather than a performance.
In addition to the shows, we also rode some of the rides! The Eel of Steel has me firmly convinced I'm too old to ride roller coasters. It has a 150 foot drop that nearly killed me. Okay, not really and my older two kids loved it, but I'm good to never ride it again! We also rode The Great White – which is a suspension roller coaster, and Atlantis which is a log flume type ride with a giant drop and lots of splashing. I'm grateful that my two older kids are able to ride by themselves so we can switch off hanging out with Cara! I posted on IG that riding the Shamu the Whale roller coaster in the Bay of Play with Cara was definitely more my speed.

We had a great day, but overall I was actually slightly disappointed. I felt the Sea World in California does a better job of including other types of sea animals (starfish petting pond, Manta Ray tanks, etc.). They could do such a better job of education and discovery of sea life with some good aquarium-like exhibits! We LOVE visiting aquariums and for an establishment that is "sea world" and sounds all inclusive, the animals included are only a tiny slice of what actually lives in the oceans.
Grateful for our time and the kids and I had a blast, but I'm not sure we'll go again anytime soon.
San Antonio Mission Trail
San Antonio has a Hike & Bike trail that stretches from downtown to Mission Espada. We didn't have time to ride the entire thing, so we started at Mission Concepion and biked to Mission San Jose and back. It was a good 8 miles round trip, and the kids did great! I'm pretty sure this was our favorite thing we did in San Antonio, and best of all its FREE!


Riding along the San Antonio River was beautiful! We had some cloud cover in the morning which helped keep the temperatures cooler, and although it was a Saturday we didn't feel overcrowded. The key was getting out early!


This park is right at the turn off for Mission San Jose. It was a perfect break for the kids, and the adults even got in on the fun.

Mission San Jose – sometimes playing in dirt is more interesting than old buildings! We passed off our Jr. Ranger books here after exploring, and also had a quick lunch on the picnic tables outside before riding home.



If you don't have a bike, no problem! There were bike rental stations like this all along the Mission Trail, so there's no excuse to get out there an enjoy it!

Hanging with Friends
We knew there were quite a few other full time families in the area (besides the 3 of us that were already at the KOA) so we put together a pot-luck dinner Saturday night before we left. We swam in the pool, colored Easter Eggs, ate great food, had an Easter Egg hunt, and generally enjoyed being together. San Antonio is a great place to meet up with friends as there is so much to do in the are. Definitely something for everyone!
Photo Credit: @joehendricks


The Riverwalk & Riverboat Cruise
We hadn't had time to see the famous riverwalk, so we extended  at the KOA for one more day so we could go down there Monday evening for Family Night. Our eventual goal was to take the Riverboat Cruise, but we decided to walk downtown instead of trying to park there. We parked up by the locks at Brooklyn Avenue, and were able to find a spot on the street. From there it was a pleasant, one mile walk to downtown, the riverboat cruise, shops, and restaurants.


The Riverboat Cruise was informative and gave us a great overview of the area. San Antonio has done a great job of developing the downtown area with a variety of restaurants, malls, and other shops. Since we weren't planning on eating dinner, and shopping is a pain with small children, we grabbed some ice cream after the cruise and then walked back to our truck. We had a very pleasant evening and highly recommend staying down there until dark!
San Antonio Zoo
Momentum stayed a few extra days in San Antonio while we ran up to Austin to catch a few other traveling friends before they left town. While we were gone they were able to visit the San Antonio Zoo, and loved it! Lots of animals, outdoor play and even a train to ride. Although they only had a few hours, Margaret Leigh said it was a fabulous zoo!

The DoSeum – San Antonio's Museum for Kids
I'm kicking myself for NOT visiting the DoSeum. We had plans to visit the Thinkery in Austin the following week, so this got cut from the schedule, but from Momentum's report the children's museum in San Antonio is better! Combination science center and play it looked absolutely fabulous. Her kids were disappointed they only had an hour to play and could have stayed much, much longer!

That's our wrap up for San Antonio! We had a great week, and although it was exhausting I feel like we did a variety of activities and were able to see a lot of what the city has to offer.
Have you ever been to San Antonio? What did we miss?
For more fun things to do in San Antonio, check out these other blog posts by traveling friends of ours:
11 Kid Friendly Things to do in San Antonio by Take That Exit
Family Fun in San Antonio by Bareneckers
Related posts: