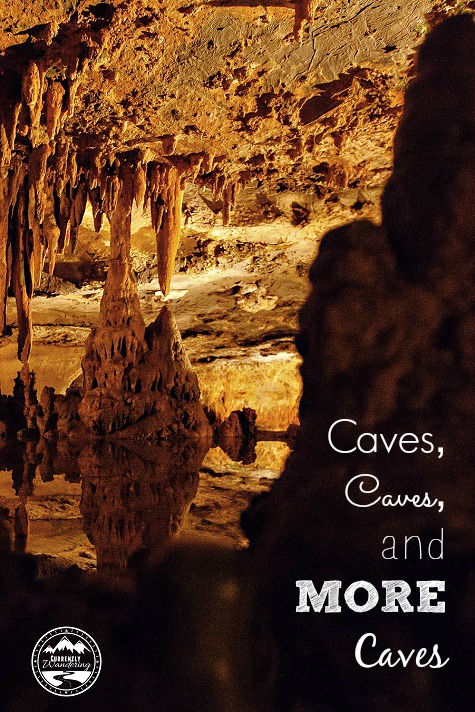 As we were waiting for our tour to start in the Lehman Caves, Sam and I started discussing how many caves we had actually been to in the last year. We started counting and realized this was our fourth is just the last year! Not only that, the locations of these caves ranged from Virginia to New Mexico and even into Nevada.
The best part is that each cave is unique and we learn something new with each cave we visit. Stalactites (they hold tight to the ceiling), stalagmites (they are mighty to the earth), columns, cave bacon, drapery, flowstone all became words that were familiar and part of our vocabulary.
Our kids can now easily identify these formations and love to refer to the joining of a stalagmite and stalactite as a "stalag-marriage". Technically its called a column, but their version is much more fun.
Here's a rundown on the caves we've visited to date and what we thought about them:
Luray Caverns, Virginia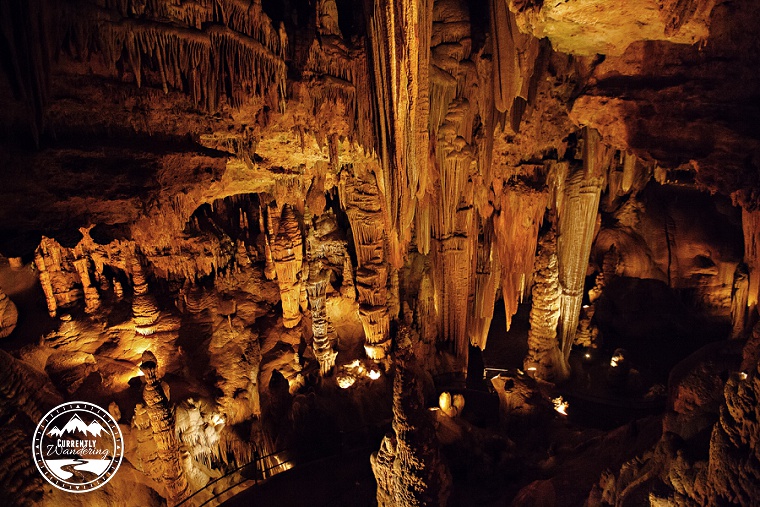 This cave is privately owned in Virginia, and the first cave in our series. Being privately held, Luray doesn't have exactly the same rules for the preservation of the cave. They do a great job, but the different rules allow for the existence of The Stalactite Organ. This very interesting instrument is created by locating cave features that sound a particular note when struck. Small actuators (hammers) gently strike the cave feature when the associated key is pressed, and the notes sound throughout the cave. During our tour, we stood quietly in front of the organ while a few musical pieces were played on the organ. This musical experience made Luray Caverns a unique experience.
Carlsbad Caverns National Park, New Mexico

We wrote a blog post about this already, but in short, when people ask our kids what their favorite place is Carlsbad is usually in the top 3. We LOVED it. A couple of points to reiterate:
Walk down the natural entrance and take the elevator back up. The walk down is awesome.
Get the audio tour wand for your kids. And one for you in case they don't want to share (which ours didn't).
Be prepared for a scrub down if you've visited any other caves in the last 6 months as they are trying to avoid the spread of White Nose Syndrome (for the bats!).
The bats aren't there in the winter. 🙁 Sad, I know. They are in Mexico somewhere.
There is a spot to eat snacks down near the (closed – just in the off season?) snack shop.
Carlsbad Caverns are not the biggest caves in the USA, but they ARE the most decorated caves. The cave features were plentiful and easy to appreciate.
Timpanogos Caves National Monument, Utah

Since this cave is located only about 25 minutes from our Lehi House I can't believe we had never gone before! Once we got into the Jr. Ranger Spirit, we determined this was a must-do during our brief stay in the area while selling our house. Cave tours fill up pretty fast on weekends, but a month before your scheduled date you can call or buy tickets on their website which we did.
Unlike any of the other caves we have visited, this was not located near the visitor center and required a 1 mile hike practically straight up the mountain. It was steep, but paved. You sign up for a time to meet at the visitor center and then your cave tour starts 1.5 hours later. I was thinking, "wow! That's a really long time to hike only 1 mile" and yet, we made it to the top with only about 10 minutes to spare. The kids really did take quite a while to hike, but we had had friends, grandparents, and my sister hiking with us so it made the journey fun.
Timpanogos is known for its helictite formations as there is a room completely full of them! These are fun because as my kids stated once, they look like "Medusa's hair" all curly, squiggly, and coming straight out of the wall due to water pressure.
Lehman Caves, Great Basin National Park, Nevada

Lehman Caves is located within Great Basin National Park and run by the National Park Service. We loved our tour guide and she gave some great information about the formations as well as the history. She was also super patient with our kids who HAD to be at the front of the group and pepper her with questions and "did you know?" statements.
I always think its fun when you can see the natural entrance, or where the original discoverers entered the cave for the first time. This is a medium-sized cave with a couple of larger caverns as well as some tighter tunnel like passageways. We learned about shield formations is this cave as it was the first one we'd been to that had any. This cave is not strenuous in the slightest, so they don't allow water, backpacks, or anything at all in the caves during the tours.
Oregon Caves National Monument

Oregon Caves fall a bit in the middle ground of our cave experiences. It's smaller and less decorated than Carlsbad, but a longer journey than Lehman and Timpanogos Caves. There is both a height and stair agility requirement to enter the caves, and Cara barely passed the height and rocked the stair test.
In one of the rooms of the caves, they used to tap on the formations to play music. They don't do that anymore, but our guide did play some stalactite music recorded in Luray Caverns. It was kind of neat to have been in Luray Caverns and heard the music played in person. The Oregon caves are cold caves, and we were glad to have brought our coats, gloves, and hats.
A lodge is present at the caves as well, and a diner style restaurant that serves delicious milkshakes and burgers. While working on the kids Junior Ranger workbooks that the stream that flows from the cave flows right through the dining room of the lodge and out the other side. The workbook also guided us to find some significant historical facts about the early access to the caves.
Bend Lava Tubes, Oregon

The Lava tubes are different from our other caves, in that it isn't strictly a cave that grows formations. The cave is an empty lava tube that is gradually filling in with sand. (We've already done a Wandering Update video on this. Check it out!)
The entrance is large, and though the cave varies in size along it's length, it never constricts to the level that the other caves did. Walking the middle section of the tube was a little like walking in an abandoned subway tunnel complete with massive domed sections. This is definitely a place to bring a bright flashlight: Our super, crazy, bright flashlight barely lit the top of the larger sections. Both lanterns and flashlights are available for rent at the cave entrance.
There's some things we've learned along the way. Our kids love it when we don't have a guide, but those caves are usually less decorated and exciting for the adults. Audio tours are better than live tour guides in their opinions. Also – how the caves are lit plays a huge roll in how we see them. Looking over our pictures, my favorites are from Luray Cavers where the lighting was excellently done.
We defnitely have more caves on our list to visit! Lava Beds, Lassen Volcanic National Monument, and some in Idaho just for starters. While not crazy spelunkers, we do enjoy ourselves a good jaunt underground!
Related posts: