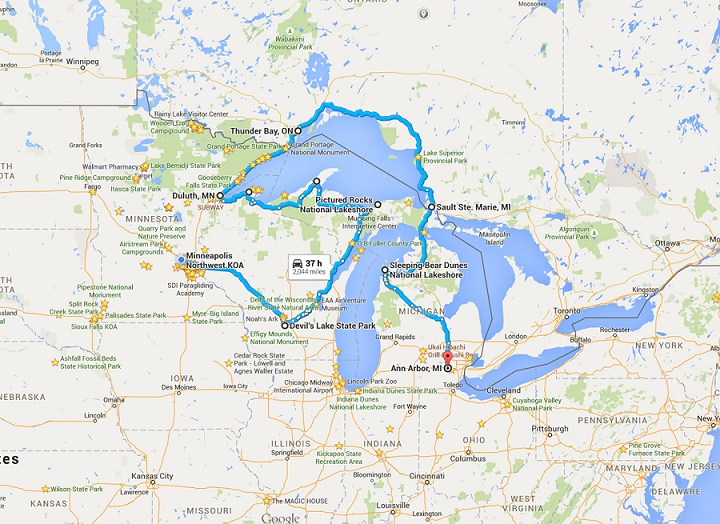 Typical vacation planning goes something like this: you decide where you want to go, plan where you'll stay, and search the area to see what other activities they are. Once you are planned, you carry out your itinerary, relax, enjoy yourself, and then go home to regular life.
As full time travelers, we are constantly in the planning mode. The first steps look the same – we plan a route, decide where we are going to stay, and search around for activities (science museums, can't miss restaurants, national parks, etc.). But once we are there, and often even before we get to destination #1, we are looking ahead to the NEXT spot. I feel we are always in "plan" mode right alongside "execution" and "enjoy the plan" mode.
Sometimes its exhausting.
I think this is why we mostly just fly by the seat of our pants and don't plan very far out. Rarely do we have our schedule detailed more than just a week or a week and a half out. This last week we put together a rough itinerary for the next couple of months,  which was the easy part. The hard part is actually dialing in and figuring out specifics of where we'll stay and what exactly we want to do. For example, I know that we want to hit Sault St. Marie, but I won't figure out WHERE and WHAT until possibly the week before we actually get there. This type of planing definitely keeps us on our toes, but it also helps me not plan out an entire itinerary that changes because we decide to move on or stay longer than the original plan.
Rough plan for this leg of our trip is to head over into Wisconsin, then up to Pictured Rocks National Lakeshore in Michigan, and across the top and backpack in the Apostle Islands August 23-25 back in Wisconsin. After that we'll hit Duluth and the north shore of Lake Superior sometime around the end of August. September will be Canada, Sault St. Marie and then down into Michigan before meeting up with the Urban Airstream Rally in Eaton Rapids on Oct 1-4. After that we just have to catch flights to Salt Lake City out of Chicago on Oct 16th. Sounds easy, right?
Related posts: