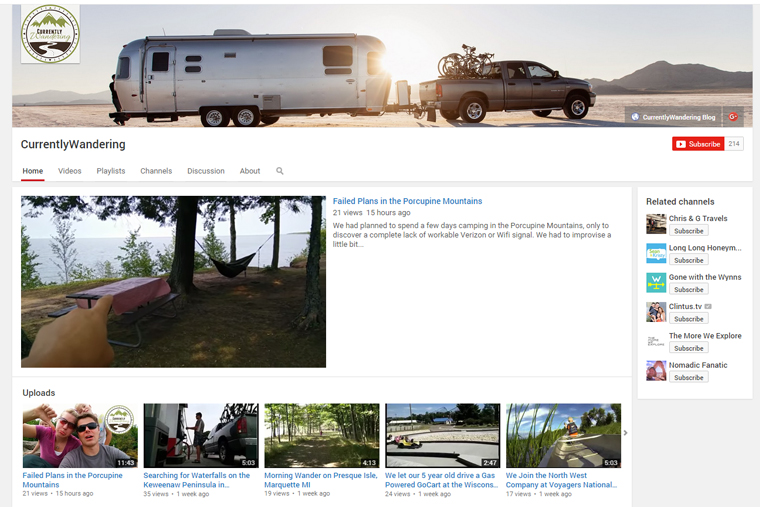 I am pleased to announce yet another place that you can follow along on your adventures: Our YouTube Channel! We blog about our adventures for detail and philosophical ramblings. We post pictures on our Instagram accounts to share places and short form experiences. We've been experimenting with video, and we like the way it allows us to remember places with greater detail and emotion. We love watching old videos and remembering the adventures we captured.
When I say 'experiment' with video, I really mean it. I have over 60 videos posted on that channel, but we've never said much about it on our other channels. Really, this was a way for me to hide a bit as I experimented with different video and editing styles. I've tried and swapped equipment, editing software, and both filming and editing styles. This doesn't mean I have it dialed in: I will warn you that I'm still not particularly good, and I hope to be improving as I continue.
My most recent video is about a wonderful and unexpected day in the Porcupine Mountains on the Upper Peninsula of Michigan. We had a wonderful day, and I'm happy with how my shooting and editing went. Have a look, and tell me what you think!
My main motivation for capturing video has been mostly as the 'new' form of home video. Keeping individual video clips on my phone doesn't help tell a story. Editing down a video forces me to filter what I captured and attempt to thread it together. I love what we've been able to capture, and the benefit it is to us. In the spirit of sharing, my videos are public and you can follow along too, if you like.
I'm slightly behind on editing at the moment, having just begun to edit the video we captured on our Lake Superior Circle Tour. If you subscribe to the channel, you will next see videos about Backpacking in the Apostle Islands and our other adventures as we circle the lake.
Related posts: