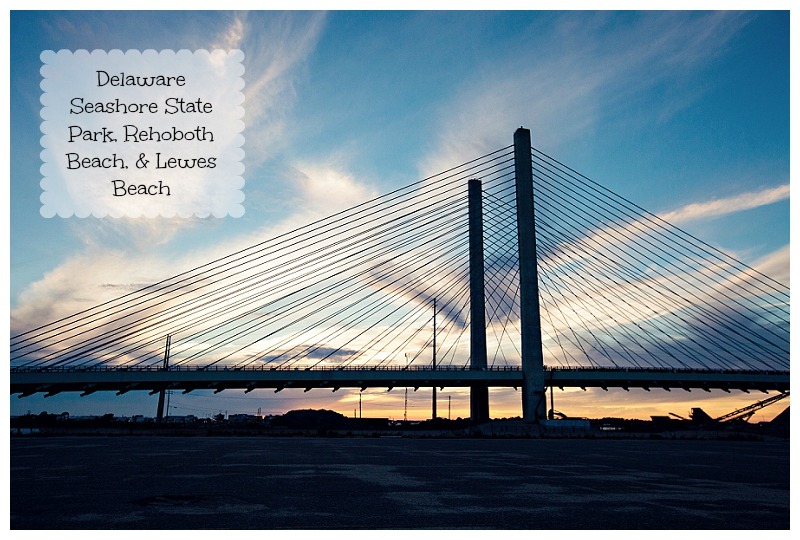 We went beach hopping in Delaware. 
Arriving on the East Coast for the first time, we knew that at some point we needed to take our kids to see the Atlantic Ocean. Okay, not just the kids. Having grown up near San Francisco and the Pacific Ocean, Sam was dying to dip his toes in the Atlantic. We asked around on Facebook (always reliable for crowd sourcing an answer) which beach we should go to, and the options unanimously came back as Virginia Beach (southern Virginia) or Rehoboth Beach (Delaware). Some of our good friends had just moved to Dover and said that if we came to Delaware they would come meet us! Sold.
When we visited: Late September 2013

Ages of Kids: 8, 6, 3

Favorites: Dolles Taffy at Rehoboth Beach (definitely a must), sunrises over the ocean, decent Fish & Chips (we are snobs when it comes to fish & chips)
Delaware Sea Shore State Park is located on a strip of land between the Indian River Bay and the Pacific Ocean. The campground is essentially a glorified parking lot, but as we planned to be at the beach almost all day, and this was our first outing in the Airstream since bringing it back from Illinois, we thought we could make it work. There are other state parks close by, but this was the only one with water, electric, and sewer hook ups and being totally newbies we didn't feel ready to strike out on our own just yet.  It was great. The beach was only a short 15 minute walk from where we parked, and had miles of beautiful golden sand, medium sized waves, and no people. It is also only a short drive (30 minutes) from both Rehoboth Beach, and Lewes Beach – both of which we wanted to visit during our trip. We camped at Delaware Seashore State Park for 3 nights and took a day at each beach.

There's a couple of great things about visiting beaches in the "off" season. The best thing is less people. Delaware Sea Shore was virtually empty, Rehoboth had more but its a boardwalk beach with other shops and things to do anyway, and we found a more secluded spot at Lewes Beach that only hand a handful of other people. Miles of sand all to ourselves. Beach gear is also on sale. We drove by a shop that was closing down for the winter and scored sand toys, a beach bag, a beach umbrella, and two boogie boards for 50% off. We knew we were headed to Florida & then Southern California (eventually) and figured we definitely needed to be prepared.
The down side is the weather. While its not "cold" its definitely not "so-hot-I-simply-have-to-get-in-the-water" warm. My problem was the wind. All 3 beaches were mildly windy and I'm just a wimp when it comes to getting OUT of the water in the wind. Hence, I just don't get in. As it was our first beach experience on the East Coast, the kids didn't care what temperature it was, they were getting IN, and Sam received the best husband/dad ever award because he got in to teach Rachel how to boogie board.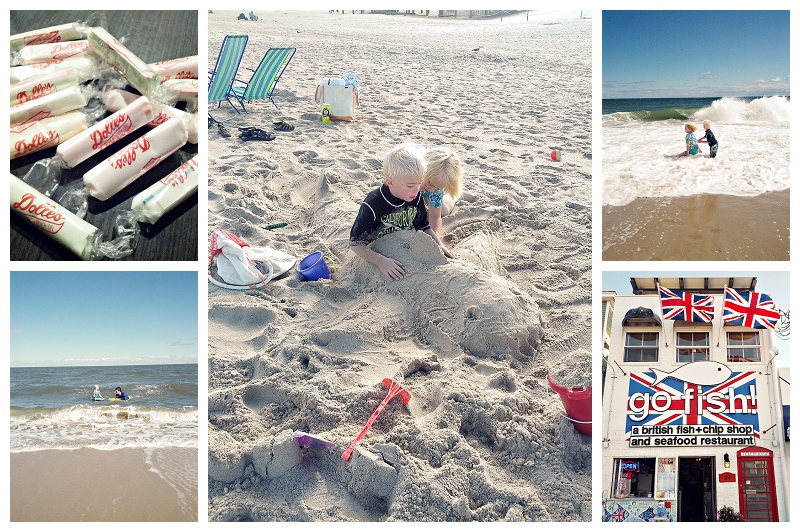 We spent some good time at the playground in the campground as well. We had it all to ourselves – and it is a good one. We tried to mix in some recess/playground time in between school & the beach, just to keep things balanced. We had a great time – and definitely recommend all 3 beaches. Rehoboth probably had the biggest/best waves for boogie boarding, Lewes has gentler waves for smaller kids, and Delaware was pretty private.  I guess which one you choose depends on what you are looking for!

Related posts: