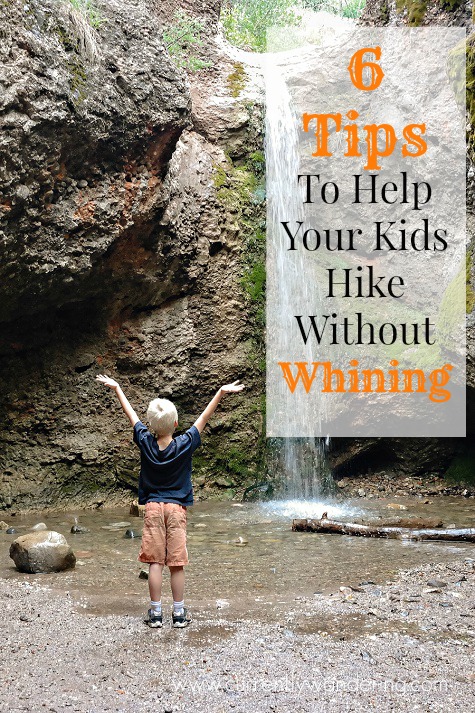 I'm ready for my kids to be long distance hikers. I realize they are still little (8, 6, and 4 years old) but I MISS hiking. Pre-kid and even when Rachel was little and would fit in a backpack, we would take a Saturday and do 8-13 mile hikes OVER mountain passes. It was glorious. Even better will be the day when they can go backpacking, as that is definitely our favorite way to go camping.
That said, we are starting small, but I feel like its a good time to start. Lately, our hikes have been maybe 1 to 1.5 miles tops including lots of whining from the kids about how hard it was, how tired they were and everything in between. As we started prepping them for their first 5 mile hike in Great Basin National Park we decided to try a few things and luckily for us, a lot of them worked! Time will tell how these play out and maybe in the future we'll be able to add more items to this list!
1. Prep them beforehand. This was huge. I don't think we had ever sat our kids down and said, "We are going to do a long hike. Its going to be FUN. We LOVE hiking and are excited about it. We know you guys can do it and we expect you to without any whining". Cara loves to hike with me, but she knows that I will get frustrated and walk away if all she does in whine. She has to be mommy's HAPPY hiking buddy.
2. Snacks with a goal. Bring some snacks that they love. Recently I discovered a granola bar recipe that everyone can't get enough of. We brought some with the stipulation that we got to eat them when we got to the top. We had other small fruit snacks and other things that we spaced out along the way, but that was a HUGE motivating factor for them.
3. Bribe them. We recently started a new chore system that involves the kids earning tickets and then being able to redeem them at the family store on Monday nights. They get 1 ticket per happy hiking mile. Sam and I use Endomondo or a step tracker so we know how long we have hiked, and the kids know they only get tickets if there's no whining. Andrew, cleverly, even negotiated for 2 tickets per mile for any hike 4 miles or longer. Sneaky little guy. There have been times where the two oldest earn more tickets than Cara because she had a particularly loud tantrum in the middle of the trail.
4. Play Games. This doesn't always work, but occasionally we get a good 30 minutes out of playing I-Spy with the kids. Someone will start and then whoever guesses what they are spying gets to go next. Since a lot of the places we hike are either Red Rocks, or trees & dirt we generally include clothing, shoes, and anything super small on anyone hoping no one will guess it.
5. Listen to Music. Maybe this totally contradicts enjoying nature, but it really works for us. We don't listen to music the whole time, or if there's ever anyone near us on the trail as we don't want to ruin their experience. I pull up the Frozen soundtrack on my phone and just carry it in my hand while we walk along. All the kids sing along (okay, I was singing too) and it lasts us a good 45 minutes on some of the steeper sections. Totally helps pass the time.
6. Have a destination. This one even helps me. If we aren't hiking TO something its a lot harder to motivate anyone up the trail. There needs to be a lake, or a glacier, or something interesting at the "top" whether the trail is a loop or an out and back. If the trail is varied enough maybe this one doesn't matter as much, but when we are just hiking through trees it gets a little tedious. Knowing there will be something to look forward to keeps them moving.
For many people, especially kids, learning to hike long distances is a mental exercise. The biggest obstacle that we encounter is boredom. Once they are bored, the whining starts. Finding ways to occupy their minds and keep them distracted as we hike has been our greatest success! Physically I believe they are capable, but mental training tends to be a bit more difficult. We are hoping to make a lot more progress this summer as we continue to travel!
Related posts: