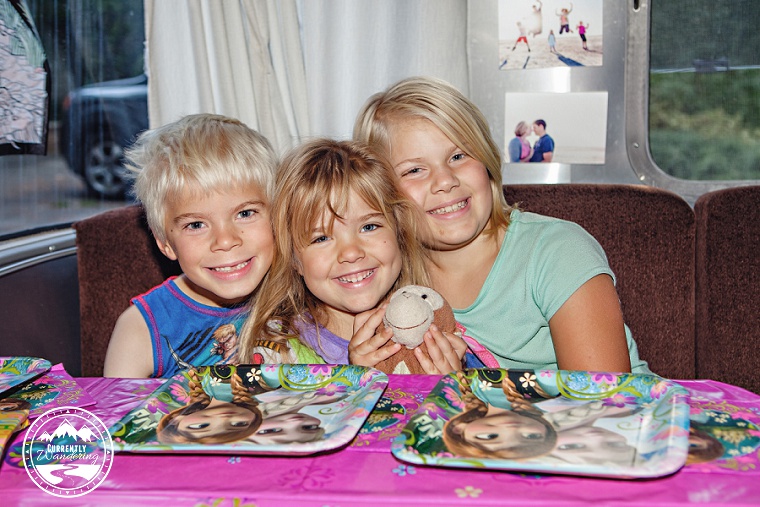 Dear Rachel,
You are turning in to quite the young lady! I'm so proud of you. As the oldest there's kind of a lot of responsibility, but you shoulder it well. You are good to your brother and sister and are great at organizing play and having fun!
Like your brother, you also LOVE to read. I love this about you guys. You'll wake up and read for an hour before even coming to find us. You love going to used bookstores with me and finding treasures. I can't keep up with how many books you guys read. It's fantastic!
You also love to cross stitch, make bracelets with your loom band (I swear you have over 30 by now!), play Barbies, Lego Friends, and help me cook in the kitchen. You are constantly asking if there's anything you can do to help make dinner, and your favorite thing is to chop veggies using the chef's knife. You've learned how to make tuna sandwiches for everyone and we're working on mac and cheese.
I loved when you watched the Women's Conference broadcast with me the other week and really tried to listen. You love our church, Heavenly Father, and Jesus Christ and do your best to be good and listen and understand at church. I'm sad you are missing out on Activity Days with friends, but grateful that we can work on it together!
I'm proud of your creativity, your love of art, and your love and support of our family. I'm so grateful that you are ours!
Love,
Mom (and Dad!)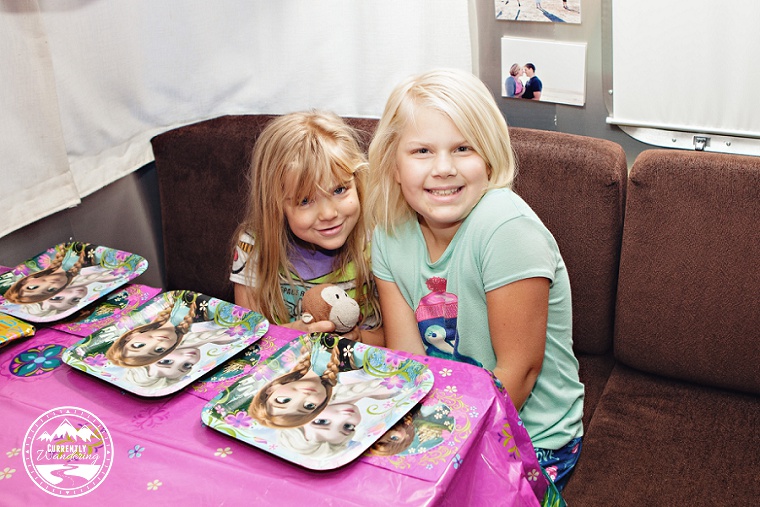 Rachel's birthday was a bit chaotic this year. As she put it, "Monday is the WORST day to have a birthday!" Luckily, she is amazing and rolled with it when all our plans went sideways.
Her birthday was the last day we planned to be in Portland, OR and out of all the activities we planned to do while we were there, she picked visiting OMSI (the Science Museum everyone raved to us about!). On Sunday afternoon when I went to look up their schedule, we found it is closed on Mondays! Plan ruined.
"That's okay, mom. We'll find something else fun to do." See? Rolling with it.
Starting out in the morning, daddy made Pletta (Swedish pancakes) for her breakfast, and while he cooked she opened her presents from Andrew, Cara, and the grandparents. G&G Madsen got her an Elsa Doll with the idea that if she wanted a different one (they were extremely hard to come by right then) or something else I could take her shopping later. G&G Curren sent money for Kindle Books (always love that!), Cara wanted to get her a HUGE bag of candy corn, and Andrew picked out a new snorkel and fins since we accidentally left ours at Camp Noyo over the summer.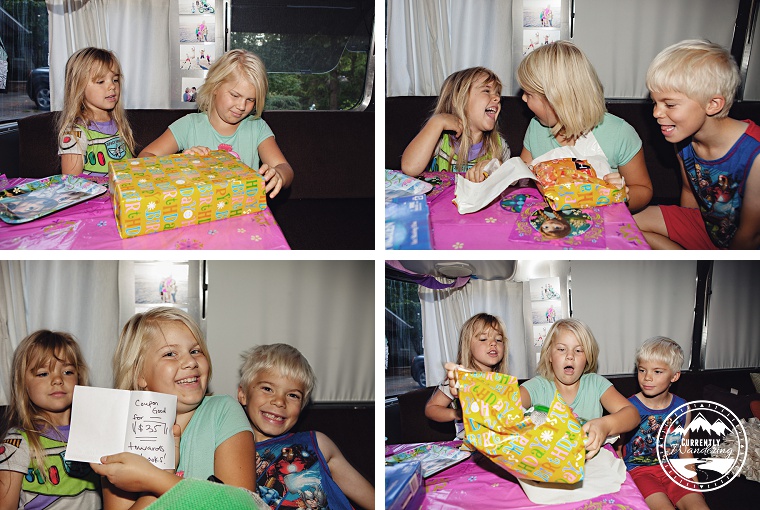 After breakfast, Rachel and I decided to take the Elsa doll back and get her a loom case for all her bands, loom, and c-clips. We found one at Michael's that she loved and was immediately happy with.
Since we were in Portland, the idea was to go out for lunch to some local food trucks only it turns out the ones we chose were not open for lunch. A little disappointed, but undaunted, we googled up a nearby pizza place and went out for pizza instead. Crisis #2 deflected.
We then spent a few hours searching bike shops in the area for a new bike for Rachel. In our haste to upgrade her in the spring, we ended up with a fairly lousy department store bike which just doesn't fly in this family. She went from loving biking to absolutely hating it and that just made us sad! Knowing we needed something with better shifting capability, but not wanting to to spend a lot of money (pretty tricky!), we managed to find a used Diamondback in her size for $100. Sold. She is SO much happier now!
After dropping everyone else back off at the Airstream, Rachel and I went to pick up her pre-ordered Frozen figurine cake from the nearby Safeway. Learning my lesson from last year, I had ordered one instead of trying to take the time to make it. On impulse, I called ahead to make sure it was ready. They couldn't find it. They didn't have the order. They had no idea what I was talking about.
My poor mama bear came out and I'm afraid I was not so nice over the phone. Meanwhile, Rachel is bawling in the backseat because that's the ONE thing she REALLY wanted for her birthday. We arrived at the Safeway, and the assistant manager was amazing. She immediately apologized, said they found the order but it wasn't done and set about making it right. Rachel picked out a cake, the manager added her name and the Frozen toys (which was a nice touch even if the cake wasn't all decorated according to theme), had us pick out ice cream and refused to let us pay for any of it. Totally above and beyond, and Rachel left feeling hopeful and happy! It really made her day!
We were staying in the neighborhood of some traveling friends, and had plans for dinner and birthday cake at their house. Although late, we managed to make it over there and had a great evening (even if the only camera I had on hand was my phone). It was fun to be able to celebrate with friends and have a little party!

While her birthday didn't turn out quite the way she expected, she was happy and I think that's what matters most!
Later that week, we were able to follow-up on Mom & Dad's present of horseback riding (She was excited she only had to wait a few days!). Still promoting experiences rather than presents, she decided this was the activity she wanted to do most. Luckily, I found an outfitter nearby that did 1 hour trail rides up into the hills near Elbe, WA. They were fantastic! It ended up being just the two guides (one younger girl about Rachel's age) and us. We wound up through the forest, to an overlook of Alder Lake and then back down. They even graciously took us the "really long way" back because it was for Rachel's birthday.
My horse was a little spirited, but I was up for the challenge, and they put Rachel on a sweet, gentle horse that could do no wrong. I'm not sure I've ever seen her giggle as much as she did when we urged those horses to a trot. She was in heaven.




If you are ever in the area, I definitely recommend giving EZ Times Horse Rentals a call. I couldn't recommend them more! Oh, and while you are in the area. Stay at Alder Lake and eat some Pizza in a Train. Super fun area of Washington!
Related posts: