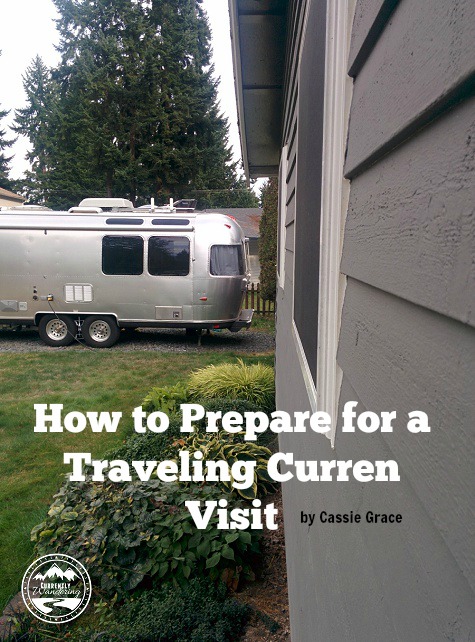 One of the things we love about traveling is spending time with friends & family we wouldn't otherwise see. Whether we are traveling through their town, or make a specific detour, these visits are fun and exciting for all of us. We've stayed with or nearby our friends the Graces twice now. Once for Thanksgiving 2013 in Tampa, FL and then they moved to Puyallup, WA where we recently got to see them again in September 2014!
Being experts on having the Curren family as temporary neighbors, they volunteered to write an article for our blog on How to Prepare for a Traveling Curren Visit.
Enjoy!
How to Prepare for a Traveling Curren Visit
by Cassie Grace
First off, Breathe. This isn't your normal visit. No one one will be stealing your hot water in the morning. You don't need to pull out the hide-a-bed or musty bedcovers. The beauty of a Curren visit is that they bring their house with them. It turns out, they are more like a temporary neighbor than a house guest.
1. Remember this is normal life for them, but its still a special treat for you.
I am really not fit for human beings until about 1pm after my jog(plod), shower and lunch. Perfect. That meant the Curren kids could do school and Sam could get his work hours in without worrying about offending us. Then we could have fun in the afternoon and evening. Which leads me to….
2. Have books at the ready.
I love this about Rachel, Andrew and Cara. They love books. They devoured several books from my personal library in just a few days. This comes in handy when you want to chat with Jess without much noise.
3. Projects and adventures are great fun, but not every second.
Don't get me wrong, The Curren clan loves a good museum, park or trail. Do that stuff, but let them rest and relax and enjoy your company too. Can you imagine going full steam like that for months at a time? Phew. Makes me tired just thinking about it!
4. Soak it up.
Poor Sam. I think I may have squeezed his brain dry on a project of mine. I think we ended up talking for 2 1/2 hours on my fledgling business, well into his bedtime. You know Sam. He has so many good ideas, I even took notes. And Jess, I yakked Jess's ear off about food and cooking. Luckily, they are super cool and hung out with us as much as we all could stand for our short three days.
5. Reflect
The Currens caused Mike and me to reflect and reconsider. A lot. I mean, how outside the box do you want to get? They went from typical suburban family to full-time-homeschooling-adventuring-travelers! They make me want to reach a little further to try somethings a little differently. To get rid of some of my junk. Seriously. If Jess can live in 188 sq feet with less stuff, then I can definitely unload some crap. And go hiking. There is so much to explore in my own city, its time to get out of the house. While I'm not ready or very willing to do the same thing they are, the Currens remind me to change.
So there you have it. Our five top ways to be ready for a Curren visit!
Related posts: