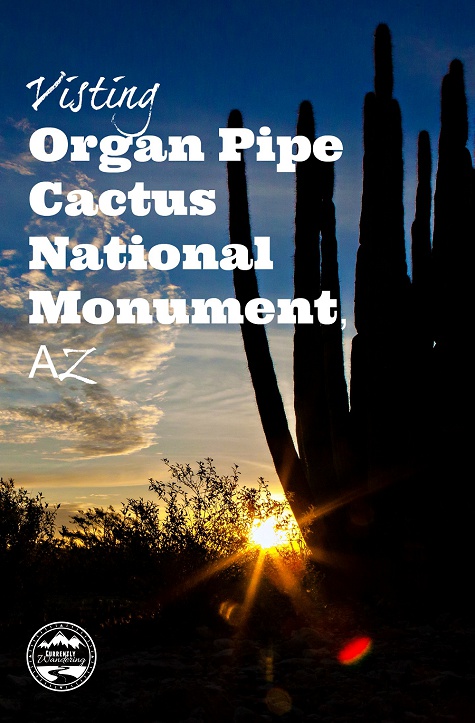 Organ Pipe Cactus National Monument has been on my "must-see" list since we visited Arizona last year and I developed a slight obsession with all sorts of prickly plants. We didn't have the time to venture south of Tucson, but we've more than made up for it this time around!
When We Visited: February 16-18, 2015
Ages of Kids: 9, 7, 4
Where We Stayed: Twin Peaks Campground. The only thing we didn't approve of were the strict generator hours! Totally interfered with our hiking & exploring.

The Organ Pipe Cactus is only found in the United States in this park. There is large concentration of them in Mexico (the park is smack dab next to the border), but if you don't have a passport, this is the only spot to see them! These plants look like giant, upside-down octopus. The largest one we saw was along the Ajo Mountain Drive. It also was a MUTANT cactus, or a CRESTED cactus (it doesn't get much better than that!). This anomoly occurs when a new arm of the cactus starts, but pushes out with the new growth forming a line instead of a circle. The resulting fan shape also occurs in saguro cactus, though it doesn't usually grow linearly as this one did.
We are also getting into the flowering/fruit season of the cactus. This Prickly Pear was starting to have fruit although they won't be ripe until last summer when the monsoons arrive in the desert.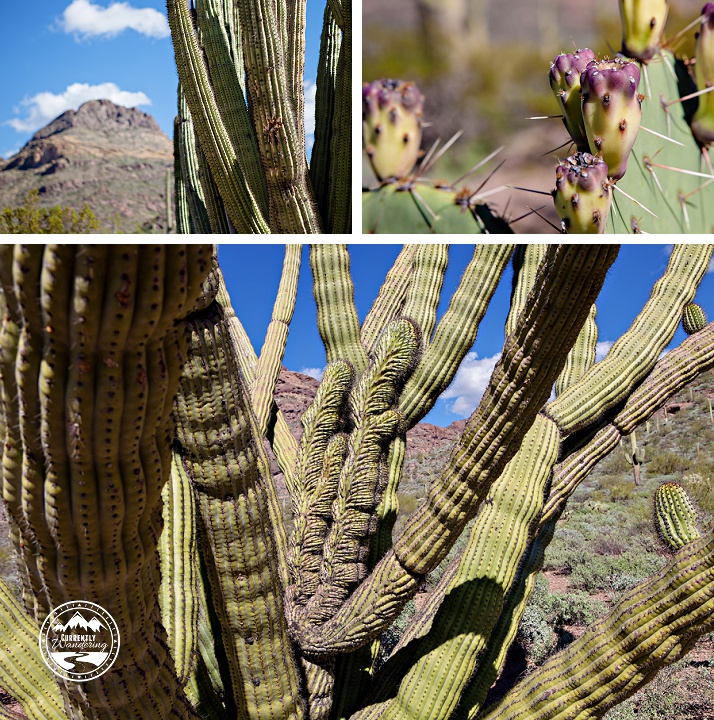 Here's Sam and Rachel standing next to it for a size comparison:

At the back of the 21-mile loop is the Arch Canyon Trail. Although you can see the arch from the parking lot, the BEST part of the hike is back up in the canyon. Its a little steep and scrambly, but the views are SO worth it. We couldn't believe how GREEN everything was. The Sonoran Desert really is beautiful. The green creosote is everywhere and gives the area an almost forest- like appearance. Add to that the cool canyon breezes and I was having a serious case of home-sickness for the Utah mountains.

The Agave is also one of my favorite plants even if it isn't a cactus. I found this one near the top of our hike.


One morning I actually managed to drag myself out of bed to photograph the sunrise. The one thing I wanted (photographically speaking) was a silhouetted Organ Pipe Cactus with a beautiful sky. Sam gets up early to work and sees beautiful sunrises all the time, and when I cracked an eyelid he told me this one would be worth it. It totally was.

This is an Ocotillo – also not a cactus but very cool looking. Native Americans used to use the branches to make roofs, fences and all sorts of useful things. When there's not enough rain, they'll shed their leaves and look quite dead and ugly. Luckily, there's been quite a bit of rain recently and we got to see them fully dressed!

We thoroughly enjoyed our stay in this park! Even though it is quite a ways out into the desert, its definitely worth the trek!
Related posts: