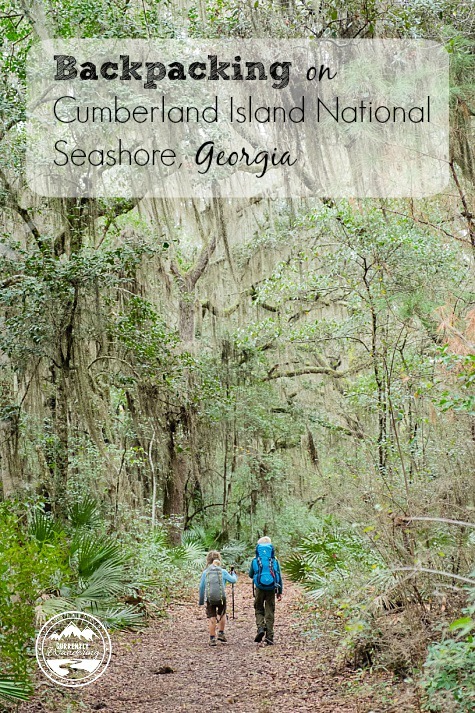 After spending months wandering around Florida, we were starting to miss our summer backpacking adventures.  After some research on The Outbound, Jess found Cumberland Island, located in Georgia, just North of the Florida border. Although we could do just a day trip, we kind of have a thing for camping on islands (see here and here) and it sounded like fun!
When we visited: March 3-5, 2016

Ages of kids: 10, 8, and 5
We actually had planned starting this trip a day earlier, but we ran into truck trouble. Our starter died, making it impossible to leave Savannah, Georgia the night before. We got on the road with a fixed truck the next day, but our two-day reservations had only one day remaining. We drove down to the little town of St. Marys, Georgia and set about finding a legal place to spend the night.
We decided to call the local police non-emergency number, and ask if there was any place where we could park. The dispatcher had an officer of some sort call us, and we explained our plans for backpacking and a need to park the Airstream. The officer was very helpful, and directed us to the long parking places along the waterfront, usually used to park boat trailers. She also assured us that there would be no trouble spending the night there.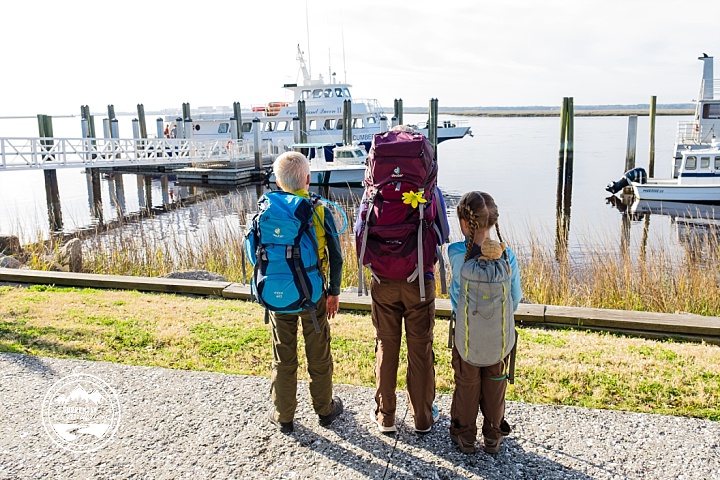 In the morning, we set about finishing our packing, and trying to work out the details of our stay. Only one night of our original 1 day reservation remained, and we knew that most of the campgrounds were fully booked. I went to check in to the ferry, and asked about the possibility of finding a spot in a backcountry campsite for a second night. The cashiers for the ferry and the park are right next to each other, since you cannot camp on the park without having both a campsite AND a ferry ride. Both cashiers were very helpful, and within a few minutes I secured a site and changed our return ferry ride.
Note: The ferry people are INCREDIBLY difficult to get on the phone. While you need to make camping reservations over the phone first with the NPS (camping information available here), you can reserve the ferry online on their website here.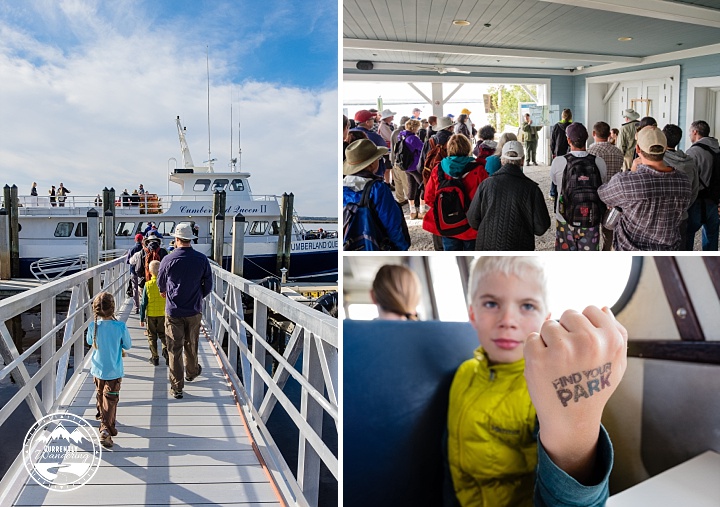 We had made an additional day of meals the night before, hoping for the second night. We threw in the additional food, and made the short hike down the sidewalk to the ferry. We pre-loaded our camping gear on the ferry, followed by a brief orientation  by the park service before boarding. The main point of the orientation was to make it clear that you had to get yourself back to the ferry on time to get a trip back home.
The ferry ride was about 45 minutes, which was just long enough to be interesting but not too long to become boring.
Upon unloading our gear and stashing it by the ranger station, we headed off on a short day hike, and immediately came face to face with one of the island's wild residents.

Cumberland Island is home to a few hundred feral horses, descendants of the horses kept by one of the various estates on the island.
About a mile walk from the ranger station are the Dungeness Ruins, a mansion abandoned and later destroyed in a fire. Since the ruins were the opposite direction from our campsite, we decided to walk down here first before heading north. Walking through the gates an imagining what this house must have looked like was a neat experience.

The size of this estate was incredible, and gave us an interesting introduction to the mixed history of this island. We explored a bit, and began working on the Junior Ranger pamphlets we had picked up right after we got off the ferry.

After we hiked back to the ranger station, we occupied the now-empty rocking chairs on the porch as we had a little lunch. We also topped off our water, as the campsites we were staying at did not have clean water sources. Cara was rocking some ridiculously cute braids, courtesy of Jess.

With shouldered packs, we set off to find our first campsite at Stafford Beach. Our 4 mile segment was beautiful, winding through spanish moss draped trees and dense palmettos. This terrain was certainly different than our previous hikes in Tennessee and on the shores of Lake Superior.
We were delighted to discover a great campsite at Stafford Beach that had trees for hanging the hammock. We don't always hike the hammock in with us, but I was quite grateful that we did this time.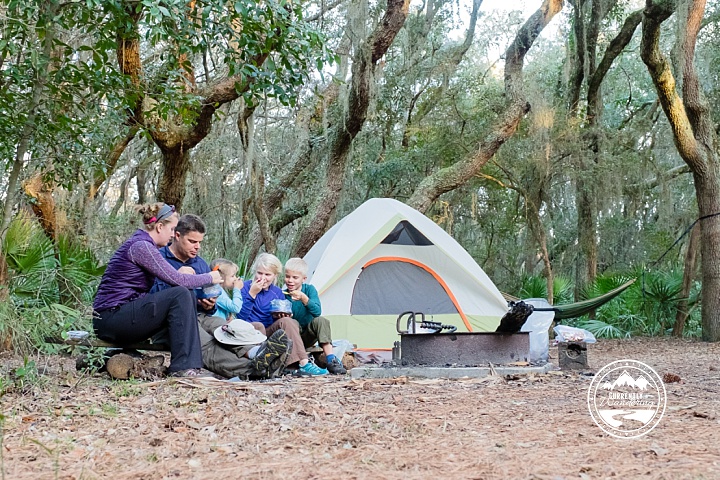 After a good rest and dinner, we headed out to the beach for some exploration. Of all the beachcombing we have done, this was our very first beach visit with horseshoe crab shells. Sea-foam, shells, and a beautiful sunset made it a very pleasant evening.


We slept well, but received a decent amount of rain overnight. We all sleep in a single tent that does not function very well in heavy rain, and nearly everything was a little bit wet the next morning. We set everything out to dry, but most of our stuff was packed still damp to the next camp, where we would set everything out yard sale style to dry in the gentle breeze.

Our next campsite was at Hickory Hill, almost 3 miles further North. That distance was covered pretty quickly, and we immediately unpacked our wet gear and spread it out to dry. Our destination for the day was further along, but we would return for the night and only carry day-packs the rest of the way.

We set out for Plumb Orchard, a 'cottage' on the island that was still standing. The Park Service offers tours of the building, provided you can get yourself there. We day hiked an additional 3 miles there before enjoying lunch in the shade of the ancient trees on the grounds of this mansion. It was considered a cottage only because of the size and magnificence of the Dungeness Mansion that we had visited the day prior. Really, this house was something spectacular.

The majestic exterior was matched by equally beautiful interior rooms. In spite of the previous tour being packed, our tour time was attended by just our family, and we were treated to a wonderful personal tour of the house. Jess even had a hand playing the grand piano in one of the rooms decorated with one of a kind lamps and mounted game.

We spent an hour touring the house, marveling at the indoor plumbing, the inside swimming pool, and the sheer number of rooms available for guests to come and stay. After our tour, we filled up our water bottles from the potable water available at the house, and set off to hike the 3 miles back to our campsite at Hickory Hill. Along the way, we spotted a few more horses roaming their island home.

Our evening was peaceful and fairly quiet, the kids being tired enough to rest and read after our many logged miles. No rain fell on us that night, and we slept soundly.
Our next morning, we had our longest hike yet. We hiked nearly 7 miles from Hickory Hill to Sea Camp and the ranger station. I should mention that Hickory 'Hill' was indeed slightly higher than sea level, but a only a few feet. The entire hike was essentially flat, which our tired feet appreciated.

We relaxed on the beach at Sea Camp for a few hours after arrival while waited for the ferry, and spent some time finishing up our Junior Ranger Books. We really enjoy earning Junior Ranger badges, and Jess and I learn plenty as well. Having activities for the kids can help distract them from their tired muscles, and usually improve attitudes.

Remember how we had prepared an extra day of meals in case we could extend another night? We threw those meals in before we left, but we had completely forgotten to add extra snacks for that second day. We normally bring along small snacks that we eat while hiking and in between meals. With no snacks included for that second day, we cut it pretty close, food-wise. We rationed our snacks pretty well across both days, and we fared well enough. By the time we were ready to board the ferry, we had eaten every scrap of food we had. Nobody was in serious want for food, but we were all just a little hungry.
Our hiking milage added up to 13 miles of hiking with packs, and an additional 8 miles of day hikes for a total of 21 miles over three days. I couldn't have been more proud of my kids for their great hiking and (mostly) good attitudes.
I pulled out my wallet and bought 5 refrigerated Snickers Bars from the guy on the ferry. They didn't last long.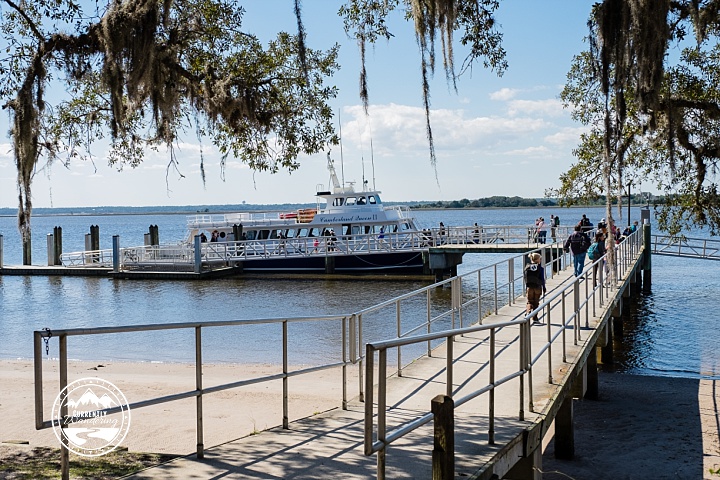 While we absolutely LOVED our time on the island, if we were to do it all over again we might camp at Sea Camp the entire time and bring our bikes to explore the island. Cumberland island is so flat that often I was wondering why we were hiking when bikes would be so much faster? There is a concessionaire on the island to rent adult bikes, but the information that we received was that the ferry is now letting people bring their own bikes (something we didn't think they allowed). For sure call to double-check everything with the rangers before you make your plans!
Up Next: It Rains in Florida and Dashes All Hopes of Boogie Boarding One Last Time
Related posts: