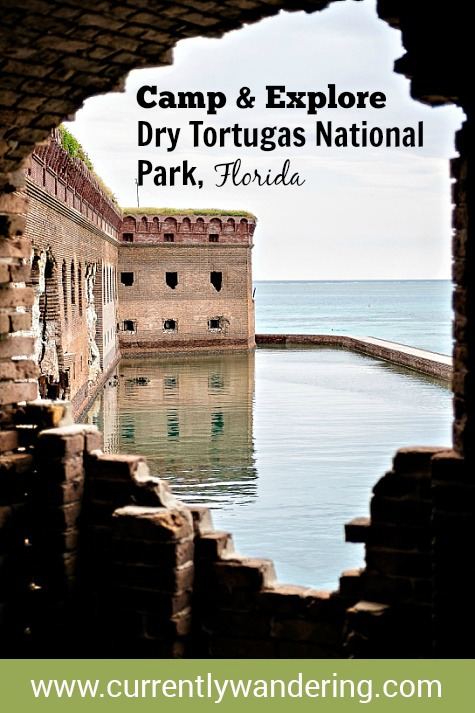 Dinner seemed to be running late, but since no one was paying any attention to the time, I'm not sure that it mattered. The kids and I were gathered around the picnic table reminiscing about our incredible day as Sam loosely monitored our sizzles sausages on the BBQ.
"Mom! Do you remember that really cool parrot fish I saw?" Andrew asks.
"Or what about purple coral?" Rachel chimes in.
We had spent all day snorkeling and playing in the water  in Dry Tortugas National Park – which is small group of islands located 70 miles off the coast of Key West, Florida. It is arguably the hardest National Park to visit as its only accessible by private boat, public ferry, or sea plane. The logistical difficulty only enhances its magical appeal. Crystal clear waters, coral beds, nesting birds, and a Civil War era Fort lead to plenty of exploration and excitement while visiting.
After dinner we set off to explore Fort Jefferson until the sun went down before laying on our sleeping pads listening to our audio book as we fell asleep exhausted from a day full of playing hard.
Choosing to camp in the Dry Tortugas may seem like a daunting proposition, but with a little preparation it can be one of the best experiences you'll ever have as a family. Here are a few tips to get you started:
Book Early
The Yankee Freedom III  is the only authorized ferry concessionaire and takes out a limited number of campers per day (when we went it was 10). If you have a large group (or family) booking early ensures you can all go out at the same time. You can stay up to 3 nights which is well worth it!
Taking the Ferry
We had to have our gear at the dock ready to load by 6:30 a.m. Definitely early for everyone involved! They had carts available to haul our gear from the street to the ferry loading spot. Once we had our gear tagged and had a brief orientation by the captain we parked our truck in the nearby long-term parking and checked in at the office.
We only had to wait about 30 minutes in the lobby before they began boarding. An all-you-can-eat breakfast is included and available as you get on the boat, and it was delicious! Bagels, fruit, hard boiled eggs, cereal, toast, and yogurt. We definitely ate our fill!
Because breakfast was so large we wished we had gotten our free lunch on another day. Two large meals in one day was a lot.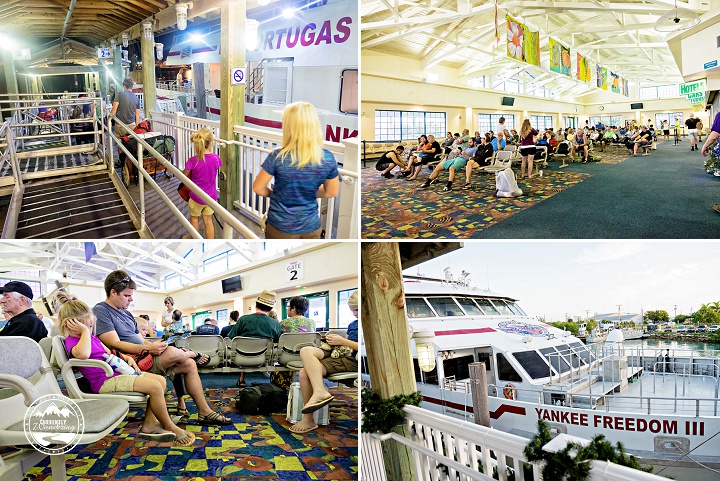 Primitive Camping
You have to take everything with you, including any water you may need for your stay. There are bathrooms aboard the Yankee Freedom when it is docked, and there are composting toilets for after it leaves/before it arrives.
There are carts to haul your gear from the ferry over to the campground, but its not a far distance if you just end up lugging everything over.
The National Park service has hard sided coolers you can use while on the island. During certain times of the year they occasionally have rat problems, so keeping things boxed up is a good idea. We keep a Costco soft cooler in the trailer, so we used that and transferred everything to a hard sided cooler when we got there to help drain off excess water and keep our food colder.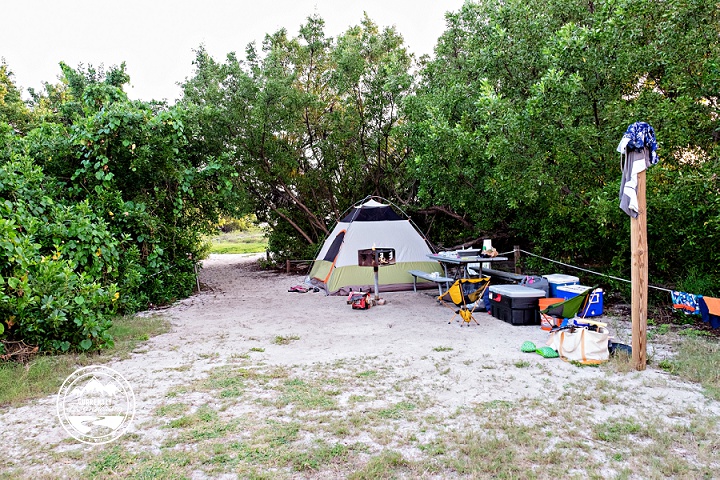 For water we took our two Rhino water jug containers, three of our Platypus water bags, plus a dozen or so plastic water bottles. We had plenty of water and dumped out almost a full Rhino jug before heading back on the ferry.
Our campsite was fortunately protected from the sun…..and unfortunately protected from the wind. It was pretty hot and muggy at night and any kind of a breeze would have helped that! The sites on the other side of the trees closer to the ferry would have been perfect!
Watch the Weather
During our visit, the weather was quite warm, even during the night. Careful watching of the weather told us that it would be quite warm, with perhaps only a sprinkle or two. We didn't pack any very warm clothes as a result of the conditions we expected. Neither Sam or I even pulled out our sleeping bags. We just slept on top of our sleeping pads.
The weather can be cooler, and you will want to be prepared. Plan ahead by seasonal forecast, and make any last minute gear adjustments as necessary within the last few days before your trip.
Gear
We have a hard sided Rubbermaid 35 gallon ActionPacker tub we keep in the truck with all of our backpacking gear. We emptied it out and filled the tub with food, charcoal, a 5 gallon bucket from Home Depot for making sandcastles, and anything else we didn't want to risk getting wet on the ferry ride over.
We put everything else into black garbage bags inside our backpacking bags so if they got splashed we wouldn't end up with wet sleeping gear. For a full list of our backpacking gear see our list here.
We also brought our compact camping chairs, swimming suits, and 2 swim towels to share.
Food
We went all out on this one. Since camping usually consists of hauling our gear on our backs and eating freeze dried food, having carts was a bit of a luxury. We brought supplies for tin foil dinners, BBQ'd sausages, ate deli pasta salad from Publix, made fry bread scones for breakfast on New Year's Day, and munched on crackers, meat, and cheese for lunch. We even snuck in some Birthday Cake Oreos for Sam to celebrate his birthday on the 30th!
We definitely did not go hungry and probably brought way too much food.

Using the self-light charcoal was not a big deal, and we even managed to boil water for oatmeal one morning using our wood-fed backpacking stove. We just shoved charcoal in there instead of sticks and it worked like a charm. We ended up buying ice from the ferry every day, and in the hard-sided coolers we had no problems keeping everything cold.
The ferry provides you one lunch on any day you are there. In hindsight we should have saved it for our last day, but we still survived. Lunch is available from 11am-1pm everyday and if you'd rather eat their food its all you can eat sandwiches, chips, cookies, and soda for $7/person.
Snorkeling
The ferry (and the seaplane) provided snorkeling gear for us to use for the duration of our stay. They also have flotation vests and pool noodles if your kids (or you!) need help staying afloat. We picked up the gear at the dock, and then we just kept it by our campsite. The kids started out pretty hesitant (especially Cara), but by the end they were all snorkeling like champs. We had trouble getting them OUT of the water.
Snorkeling turned out to be a fantastic family adventure!


The best snorkeling we found was either by the old pilings (south beach) or if you follow the line of the moat wall straight out towards the buoy's there are some amazing coral beds. Its not very deep, and we were able to find spots for the kids to rest where they (or at least we) could touch the sand with our flippers.
Cara wore her arm floaties so she swam circles around us most of the time. The best snorkeling was before the ferry arrived in the morning and scared all the fish away, so it definitely pays to get up early at least one morning!
Take Pictures
The island is so small that you can experience both a sunrise and a sunset over the water. The Fort itself is quite picture-worthy from nearly any angle, and presents amazing opportunities both within the fort and from atop the fort walls. Bring a waterproof camera if you can, and document the amazing fish and coral you see while snorkeling!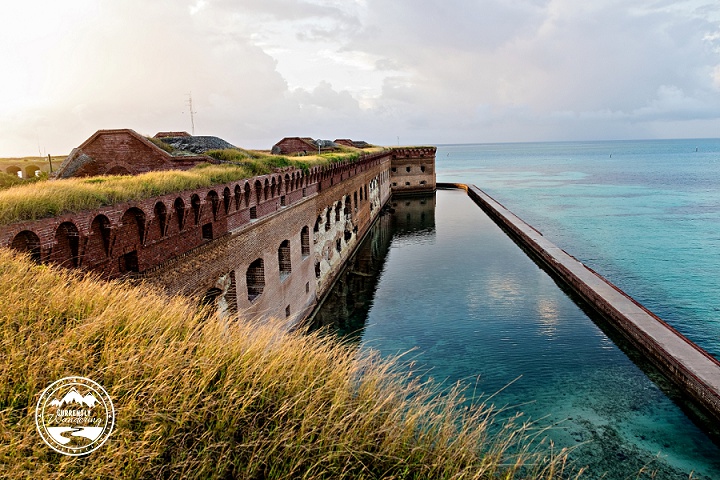 Explore the Fort
The Rangers on the island have an incredible amount of historic knowledge about Fort Jefferson. We learned why it was built, who lived there, how the soldiers collected water, and even about the Cuban refugees that continue to show up on a semi-regular basis. At one point the fort was even used as a prison, housing Dr. Mudd who was imprisoned for setting the leg of John Wilkes Booth after the Lincoln assassination. The Park Ranger hosted two tours everyday and from what I gathered one was a moat tour looking at wildlife, and the other was about the fort.
Fort Jefferson is beautiful and definitely worth exploring on your own as well as on a tour!


Earn a Jr. Ranger Badge
We are advocates of the Jr. Ranger Program, but did you know that even as a adults you can earn one? Since the Dry Tortugas are a pretty remote spot, I think having a badge deserves some bragging rights. Its super short, easy, and well worth the effort.

See the Stars & Explore in the Dark: 
The night sky out at the Tortugas is incredible. One night the Ranger Mike brought out his telescope and we got a look at some of the stars up close. He's not an astronomer by any means, but we enjoyed hanging out with him and the other campers inside the fort after dark.
The next night, Sam and I snuck away after the kids were in bed and set up the camera for some long exposure photography. There are also bioluminsecent algae that live in the moat and surrounding water. If you walk the moat (carefully) while its dark you can see them flashing. Its incredible.

Our friends from the Bareneckers took the opportunity for a quick dip in the water during their stay and actually swam among the flashing lights. We weren't quite that brave!
Camping on the Tortugas for New Year's Eve created opportunity for some fun light painting with glow sticks. Ashley Longnecker provided the glow sticks, and I provided the camera. Kids and adults alike had fun and it was a fun substitute for fireworks! Happy New Year!

Get Up With the Sun
Playing hard all day and getting to bed early has its perks. Both mornings we were up before the sun and wandered out of the tent to find the sunrise. The first morning we were at the beach with the kids in their pajamas looking at washed up jellyfish. The second morning we hiked the stairs to the top of the fort to watch the sun come up. Both were magical!


Watch Out for the Hermit Crabs & Carlos the Crocodile
These guys are everywhere. Completely harmless (unless you try and pick them up and then you probably deserved to get pinched) they are fun to watch as they wander all over the island. Keep an eye out, and try and avoid stepping on them. I love how they come in all sizes, shapes, and colors. There are also a few other types of crabs on the island and we had fun watching them scuttle around. Thankfully our kids were not skittish and took it all in stride.
There's a crocodile that lives in the moat surrounding the Fort. His name is Carlos and he's pretty shy when it comes to people. After the ferry left we were wandering the moat wall and happened upon him lazily swimming. There is a pretty big gap in the wall where he could get out, but it sounds like he likes his living quarters!

Our visit to the Dry Tortugas was amazing and memorable. While you can visit the Dry Tortugas on a day visit, we highly recommend saying a few nights. The additional cost is minimal and the experience is magical. Our visit happened to span the change of year. Sitting with our family on the moat wall, we watched an amazing sunset over the water as we discussed what an amazing year we've had. This experience was definitely one of our favorites!


Related posts: