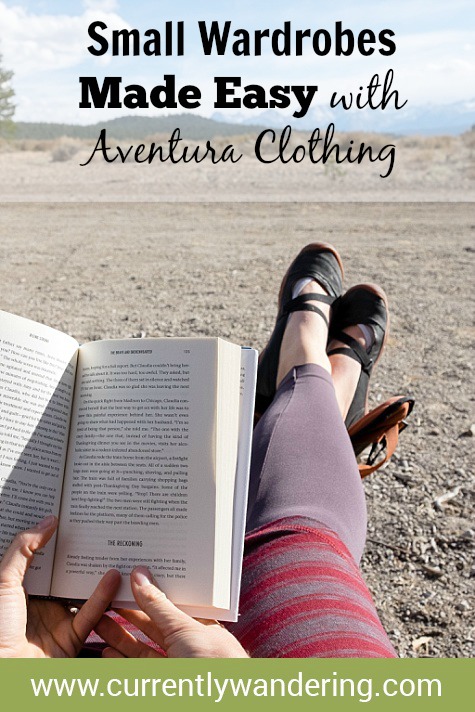 Having a small space for clothes has both its positive and negative sides. On the one hand, our closet for 5 has less space than most people have just for their dress shirts. On the other, I actually wear my clothes more often and even wear them out before I grow tired of them. We typically have at least a week's worth of clothing for each of us, plus jackets, puffy vests, and rain shells.
Prior to becomming Aventura ambassador (free clothes!) my wardrobe consisted solely of outdoorsy clothes from places like REI. They are super comfortable, but occasionally I do like to feel more like a "real" person and less like I just came out of the back country. There is still a certain appeal to dress up on occasion.
Aventura does a great job of styling their clothes to blend well with each other. They use the same color schemes throughout their entire line (you'll see a lot of "smoked pearl" and "blue indigo" in my clothing picks!) which makes it crazy easy to mix and match a few pieces to create a pretty extensive wardrobe. In addition to color, the fabric is generally soft and forgiving while still being flattering.
I did struggle with sizing on their fall collection, however. I felt like I was a solid medium (normally a large in other clothing lines) in their spring line, but a lot of the long sleeved shirts felt tight across the chest and short on the waistline. I found that if I went up a size the fit was better. I also ordered a size up on the Daria Vest to fit across my chest.
I'd like to think that its them not me, but there is also a good chance I've gained an inch or two in the last 6 months. Totally lame, but that's real life.
I also have a puffy vest obsession, so that led to the absolute NEED to have something to wear underneath them. I may or may not have purchased  a few extra long sleeve shirts. Don't worry. We'll just stash the kids' clothes under the beds instead of in the closet.
Favorite clothing picks from Aventura's Fall Line: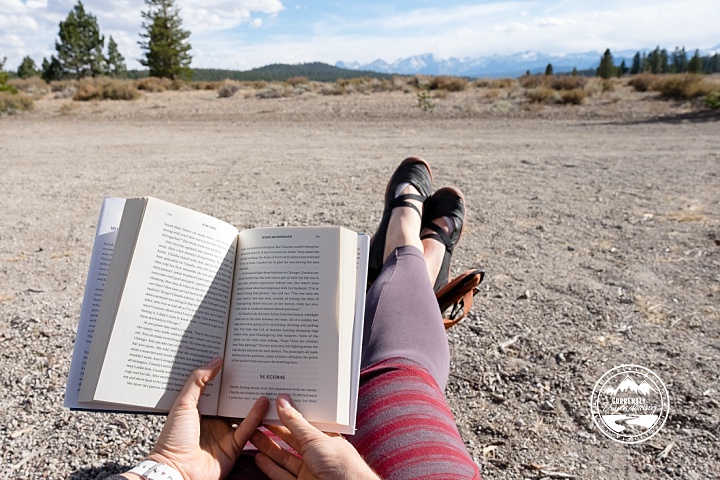 Outfit #1: Sunday Style
Athena Top, Bryce Skirt, Daria Vest, & Bienne Leggings
This combo has been great for wearing to church on Sundays. I'm generally not a weekday skirt kind of girl, but this outfit makes Sundays kind of fun. The Bryce Skirt doe not have a thick waistband (despite looking like it does) but its just a smaller 1″ elastic in the top. Still looks cute, and we'll see if it holds up over time.
The Athena top has some great crochet in stripes (I bought one in blue you can see better below) but it does wash a little funny. Wash cold and then stretch it out before hang drying or tumble dry low. That way it won't pucker between the stripes.
The Bienne Leggings are crazy comfortable! I couldn't find them on Aventura's website anymore (hopefully they'll come back) but I did find them at Zappos.com instead.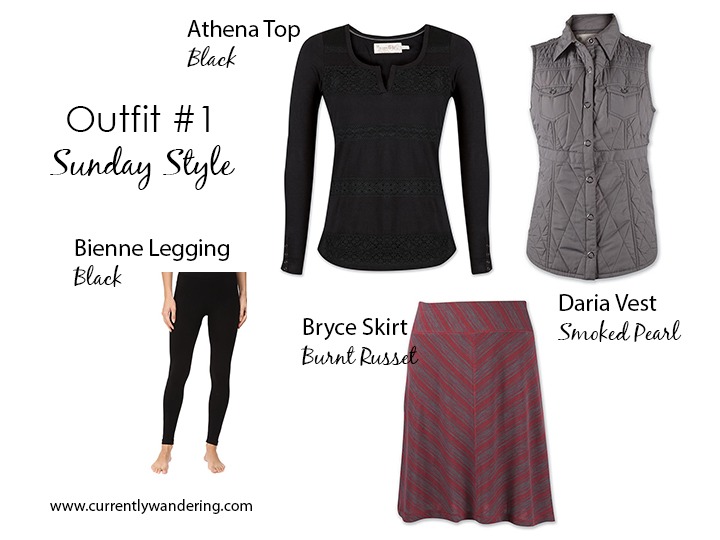 Outfit #2: Warm & Cozy
Tara Pant, Erin Top, Aldean Scarf, Adeline Hat, Granada Vest OR Jayla Jacket
I think I literally tried every pair of pants that Aventura offers, and the Tara was the only one I liked. I've heard other ambassadors having good luck with other styles, but they just didn't fit me right. That said, they are still SHORT. I am a tall 5'11" and these are not the length I usually enjoy. I like my pants to hit the floor and I tend to wear them out with my heels.
However, I have learned its all about what shoes you wear them with (hello! Not very fashion savvy around here). Once paired with my KEEN Mary Jane style shoes and rolled up they look great. Sam compliments me every time I wear them, so naturally I wear them all the time.
All the pants have stylized stitching that really does look better in person than on their website. Trust me.
I adore the Adeline hat, and the Erin Top is exactly like the short sleeved version from their spring line. Super comfortable and looks great. The Jayla Jacket I kept in a medium as a large was rather baggy, and its my new favorite outerwear piece of clothing. I don't have a "coat" as we just layer up so having a longer, warmer, jacket this winter will be nice. Assuming we go someplace cold enough to wear it!

Outfit #3: Chic & Comfy
Tara Pant, Leonie Tunic, Kennedy Sweater
I got another pair of Tara pants in Walnut, but the Leonie Tunic is a bit of a stretch in style for me. I really wanted something with longer sleeves and length so I went for it. The fabric is crazy soft, and I love that you can ruche the sides up with little string toggle things. It adds some fun styling to the piece. I do wear it with my Tara Pants rather than leggings, but maybe I'll break my leggings out at some point. I have a lot of friends that like tunics to wear over the gym clothes after a workout, but since my gym is outside my house… well, I don't have that issue. 

Extras
I did say I ordered some extra long sleeved shirt, right? I wanted clothes that would go under the Kennedy Sweater, the Daria Vest, and the Grenada Vest. I feel like all these pieces work well for that. The Samara Top has beautiful detail on the back, so I'll probably just wear that on its own, but the other three look great layered.
I did go a size up on both the Mia and Samara Tops, and probably could have on the other two as well, but I'm going to hold out though and lose that pesky 5 lbs again. Its a close fit.

Apparently I also really like blue. I figured when you have a color scheme (raspberry, blue, gray) mixing and matching your clothes is a lot more simple.
There you have it! Small wardrobes can be fun if you find the right clothes to go in them. If you'd like to give Aventura a try leave a comment and I'll email over a 60% off coupon! Its good for a single order up to $250 so you can easily ramp up your wardrobe for cooler temperatures!
Also check out these posts from other Aventura ambassadors to see what their favorite fall pieces are:
Colorado Mountain Mom
365 Atlanta Family – a Capsule Wardrobe
Kid Project
Real Girl's Realm
The Simple Moms
Related posts: