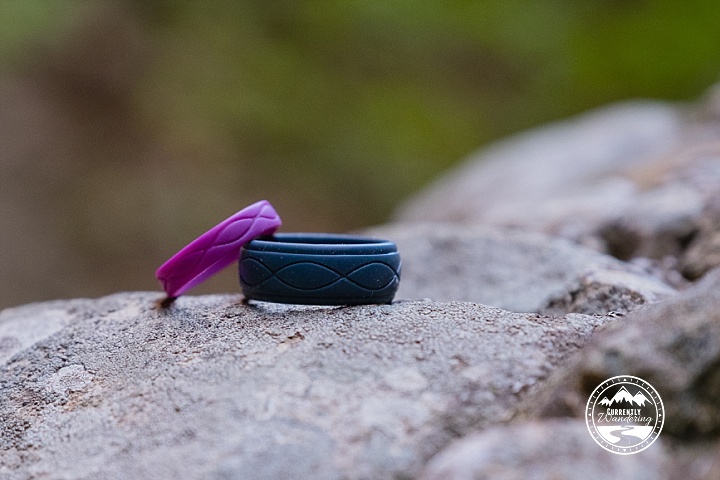 About a year ago, I lost my Titanium wedding ring in my dad's shop when I took it off during an Airstream improvement project. With traditional rings there is always the risk of de-gloving a finger around power tools or during activities like rock climbing. I'm pretty religious about taking it off during projects. We replaced that ring with one made out of Tungsten Carbide as its very durable and doesn't scratch easy. Unfortunately its also very heavy.
Several months ago, I was introduced to Enso Rings via Kickstarter (have you noticed a trend yet?) and took a chance they'd be a great, light weight replacement for my heavy wedding ring. Enso Rings are "hand-crafted out of a lightweight, durable composite silicone that's engineered to take a beating and adapt to your active lifestyle.  They're hypo-allergenic, non-toxic, and versatile." They are also designed to break before de-gloving a finger.

Their Kickstarter project included a His and Hers set, so Jess picked one out as well.  Since then, we have worn these rings canoeing, mountain biking, hiking, weight lifting, swimming, rock climbing, pageant acting, and canyoneering. We also have worn them to church, social events, and during our everyday activities. They are an all around great piece of adventure gear! We both love being able to leave our rings on all the time. Definitely harder to lose them that way!
Our new rings are both safer than traditional metal rings, and substantially cheaper as prices run from $15 to $25 depending on the style. Since their initial launch, Enso Rings has also introduced a Stackable  collection for women that Jess has her eye on. Since they are so cheap, its easy to justify having more than one!
5 Reasons To Wear Enso Silicone Rings

#1. Safety – to help protect your finger from ring avulsion, degloving and amputation.

#2. Versatility – the perfect ring alternative for all activities and jobs – i.e. firemen, military, medical field, etc..

#3. Traveling – go ahead and leave the diamond at home, this is the perfect travel ring for all types of adventures.

#4. Active Lifestyle – help you stay active and healthy – you don't need to take off your ring to exercise, hike, bike, swim, etc.

#5. Convenience – because you're sick of taking your ring off and you're tired of your ring getting in the way of what you do.
There are actually two companies that make rings similar to this: Enso and Qalo. Qalo seems to focus on carefully chosen materials, with a target market of craftsmen and weightlifters. Their rings are thicker, and have a logo on the outside. The Enso rings we have have no company logo on the outside, which helps them look just like a regular wedding ring. They are a bit thinner as well, which makes them pretty darn comfortable.
Despite their good looks, these rings are cheap. This gives me some comfort taking them on outdoor trips, where a lost ring will be nearly impossible to recover. On our canoe trip, my ring didn't slide around on my hands like it usually does as my water chilled hands shrink slightly. Even if I did lose or destroy it, it is cheap to replace.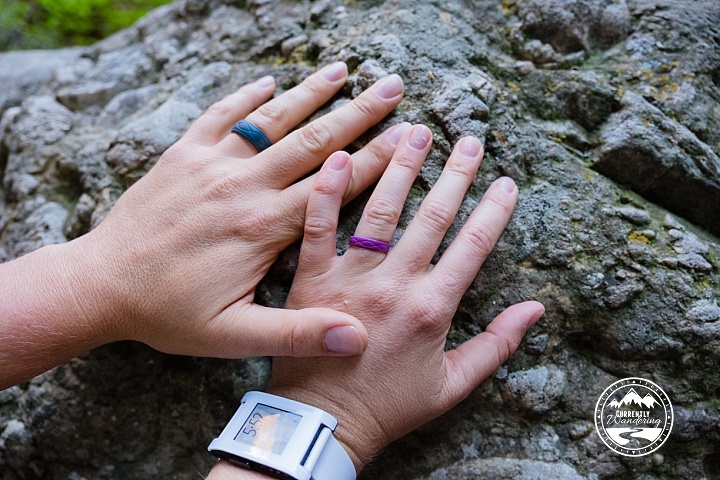 We still have our wedding rings, and we can wear them anytime we want. Jess does wear hers on and off depending on the occasion. My Enso ring is so much more comfortable that I haven't put my metal ring on since!
Related posts: