I got a little stressed out back in San Diego, and one of the ways I apparently deal with stress is to redecorate. With only 188 sq feet of living space, I don't have a whole lot of options, but I managed to change up the bathroom a bit to make it a little more exciting. We have a room on one side of the hallway that has the toilet, sink, and cabinets and then across the hall is the shower.
Here's the before. Very functional, kind of boring. We did pick up the toothbrush holders on Amazon very first off (months ago) and they have been great. No problems with them ever falling off. We also added the command strip for a lower hand towel before we originally left. I knew the kids wouldn't hang it up if they couldn't reach.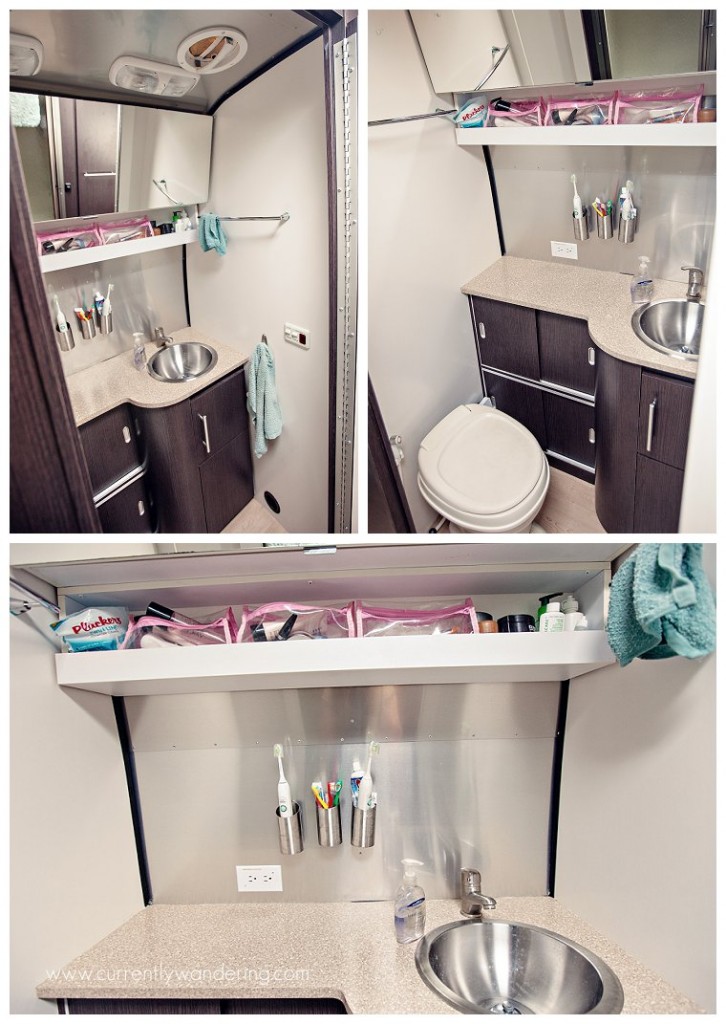 To spruce things up, we removed one of the towel bars (which we never really used anyway) and hung up some IKEA frames with photos using picture hanging command strips. I also bought a cute little IKEA plant (are we sensing a theme?) that sits on the counter. I seriously stared at this thing in the store for like 20 minutes deciding if I really wanted it. I hate clutter – I don't want things on the counter as its just one more thing I have to put away when we drive. However, the cute little plant in the bright purple pot was just so cheerful I couldn't resist.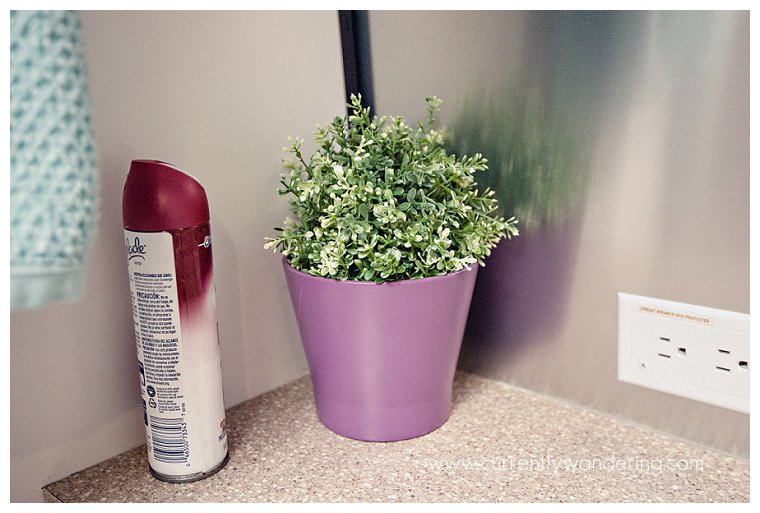 Here is the after. I moved one of the kid's towels from the back bedroom to the towel bar to add a little more color and to fill the empty space above the toilet.


And since no tour would be complete without photos of what is actually IN our cupboards, here you go! This one is a bit of a disaster just because of the shape. The curved back on the top one doesn't help things stand up very straight and it all falls over when we drive anyway. I'd love Sam to make some custom divider things so that we can just cram it all on on end and it'll stay upright.
The pink cases are from a Mary Kay make-up keeper I had. I just pulled them off the roll, ad they fit great right in that little space. Sam has one for his razor and deodorant (totally a man that doesn't care that it is pink), I have my make-up day time stuff in one, and my face wash stuff (night time) in another.

Under the sink there is a small cupboard that has extra towels, laundry detergent, hand soap, toilet paper, extra body wash, Windex, and 409. Its actually quite a small space, we just don't have very much of the afore-mentioned supplies. Underneath that cupboard is the water heater so no space there.
Under the counter we keep some more randomness. A container under the toilet paper that has our elastic, brushes, and a comb. That one is constantly in and out and often gets left on the counter. Cotton swabs, extra make up, reserve shampoo and conditioner,  girl supplies, nail polish, extra chapstick, toothbrush heads, and baby wipes. Its your typical bathroom cupboard I suppose. I could probably keep it a bit more organized, but since the doors close and I don't have to see it, I haven't made that a priority.

I was really surprised at the amount of storage space IN the bathroom at first. I had to hunt for things I felt comfortable storing in there (oats, anyone?) because we just didn't have that much. The little Sterilite containers have been a life saver, helping me keep all the little things organized. I should probably pick a few more up next time we go to Wal-Mart. We try to live simply, so not having a lot is the easiest way to fit everything in.
Related posts: