Flash back with me to Christmas. We were staying at Huntsville State Park. Jess was cooking. She had the vent hood fan on, which draws air in over the range and pushes it out the kitchen vent in the side of the Airstream. The fan is a bit loud when it is on, but works well. Until, all of a sudden…
wakka-wakka-wakka
The fan got noisy in a hurry. Jess dove for the switch.
After things calmed down and cooking and dishes were done, I dissected the range hood. The cylinder shaped plastic fan had broken, and the exposed edge of the break was hitting the fan housing.
Locating a replacement part was difficult. Many of the parts Airstream uses are common brands, and easy to find. The vent hood is made by Baraldi, which appears to be a company that mostly makes commercial kitchen range hoods. Unable to find a part online, I called Airstream directly.
Airstream was extremely helpful. I spoke with Carly, and within a few minutes (with the last 6 of the Airstream's VIN) she was able to pull the schematics of the kitchen, and narrow down the part I needed. She then emailed me the part number, a picture of the part, and a list of Airstream dealers that could order it for me. (Airstream part 512210-101, though your specific model might have a different fan.)
In between finding the problem and calling Airstream, I tried a few temporary fixes: glue and wire. The glue didn't work. The wire didn't either. We just didn't use the range vent fan for a few months, which led to extremely an extremely steamy (!) or smokey Airstream during mealtimes. We used the built in fantastic fans, but the effect isn't as nice.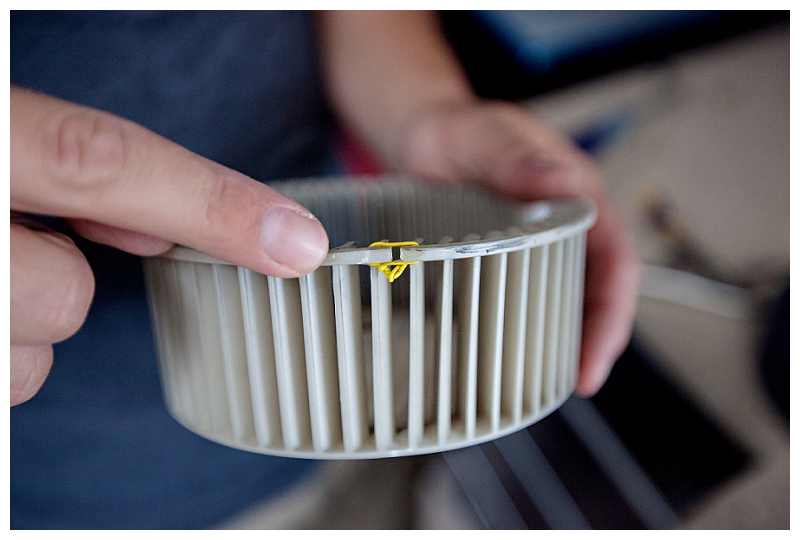 I finally called an Airstream Dealer when we arrived in California, and had the part ordered. It is apparently a rarely needed part, so nobody had it in stock. The part arrived, and was replaced in just minutes.

A phillips screwdriver is needed to remove the fan assembly, and a pair of plyers (or small vice grips…) is needed to remove and replace the nut holding the fan to the motor. Just don't lose anything, and put it all back the way you found it, and the replacement will go very easy.



This part replacement was simple, and doing it myself saved some money and a trip for the Airstream into a dealership. It is now back to it's normally loud operating mode!

Related posts: