We've had an intense social streak this last month! I feel like we've met some amazing people the last couple of weeks and turned Instagram friends into real life friends. One of my favorite parts of traveling is meeting like-minded people and Minneapolis gave us a huge dose of this!
Over a period of about 4 weeks in and around the Minneapolis, MN area we had multiple meetups with various combinations of friends. My favorite part was that we almost always seemed to DO something or get out and explore somewhere. Definitely my favorite way to hang out.
Explored Elm Creek Park Reserve with @NationalParkMommy
A travel lover friend from Instagram, Jen has been a huge help in finding cool places to go near Minneapolis. Her husband works for an airline, so they will occasionally just up and go on an adventure with their two boys. We met up at Elm Creek Park Reserve on the northwest side of Minneapolis for an afternoon. The kids played at the amazing park, and we toured the Nature Center and went on a walk (I can't even bring myself to call it hike – even though that was the original plan!).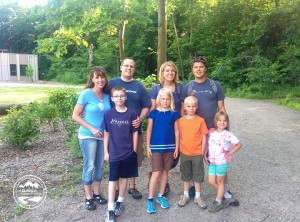 Got Eaten by Mosquitoes with @BoldAdventure @HerBoldAdventure – The Key Family
Mike & JorDanee were sprinting across I90 to get out west and slowed down just long enough for us to drive a couple of hours south to Myre – Big Island State Park. We grilled pizza, celebrated Mike's birthday with a cake that JorDanee made, chatted about traveling, life, the universe and being parents on the road. I'm super impressed they are traveling with two small kids (their oldest was already in bed when I smapped these photos!) and totally making it work.


Played Hard at Lebanon Hills with @LivingOurDash – The Dykstra Family
After escaping the mosquitoes in Myre – Big Island we came back north to Lebanon Hills Regional Park to meet up with Leesa, Matt and their two boys. Their kids are about the same ages as ours, and instantly they were all out playing in the trees in a fort they had discovered. I swear I didn't see our kids for the next three days! We stayed up late playing games (the adults), and the kids played so hard they went to bed exhausted every night. The Dykstra's were headed west after meeting up with us, so we look forward to seeing them again when we head back out that direction!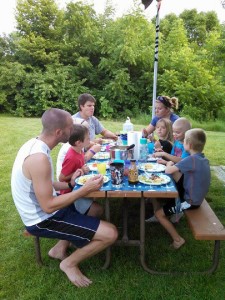 Earned the Mississippi River Jr. Ranger Badge with @LivingOurDash & @rumblestripramblings
I knew the Jr. Ranger Badge needed to be one of our school days, and it was fun to have friends along. While it turned out to be my least favorite book and location to date (just really boring) at least we had friends along for the ride! Meg & Tim from Rumblestripramblings are currently gutting and renovating their Airstream. They'd love to travel full time in the future, but those plans are still a ways out. Elise (their youngest) and Cara totally hit it off from the get go!

Sunday Dinner with @TheEcoTravelers & @Jason_Cohen/@JenCCohen
Jason & Jen were dashing into Minneapolis for the weekend and asked if we'd be around so we set up a dinner at Lake Elmo Regional Park for a Sunday afternoon. Since more is merrier, we also messaged Travis & Jenna from The EcoTravelers and they were able to join us as well! Our kids' biggest disappointment was that there were no other kids coming (guess what? Mom & Dad can have friends too!) so they hung out in the trailer and watched a movie while the 6 of us sweated in the insane humidity outside.

Lake Elmo Regional Park Family Night with @nationalparkmommy, @rumblestripramblings, & @artofeverydaylife
True story – when we were parked near the entrance booth at Lake Elmo Park Reserve to register and check in, we had someone tap us on the shoulder and introduce herself as an Airstream owner and *almost* full time traveler (I really love it when that happens!). Krysti and I got to chatting and immediately we invited her & her family over for a dinner that Meg from rumblestripramblings and I had been planning. Last minute I also managed to get a hold of Jen & Aaron from NationalParkMommy and we ended up with a huge party of adults and kids. We swam, we ate, the kids played at the park, we slack lined (its harder than it looks!) and generally just had a great time!

Although the combination of family and friends in such a short time was a little overwhelming, I'm so grateful to all the amazing people we were able to meet. How fun to make new friends, and hopefully we'll get to see some of these guys down the road!
Related posts: