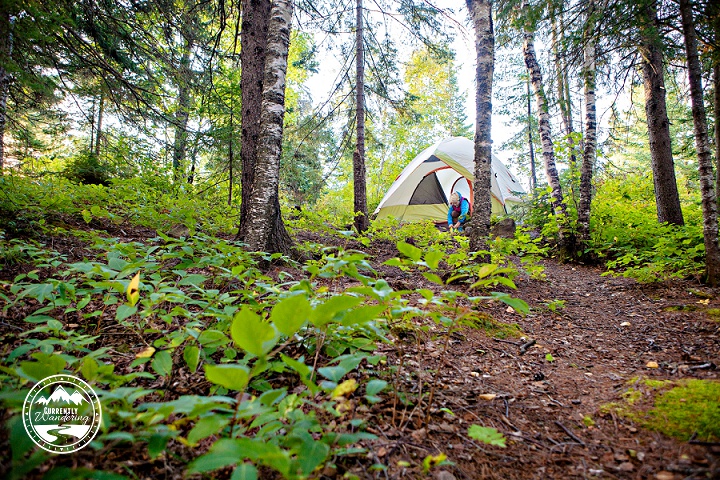 I'm pretty sure we are the only people that leave our Airstream travel trailer in one state park to back country camp in a completely different one. I suppose that doubles up on fees for the night, but if you think about the fact that when a "normal' person goes camping they are also paying a mortgage (or rent) on a house, our situation sounds a bit more reasonable. Right? Right.
When I spent a few hours planning our trip up Minnesota's North Shore, I knew we wanted to do some more serious hiking. Inland from the lake are some pretty serious hills (not quite sure this Utah girl can use the term "mountains" out here) with great views and at least some elevation. I picked out a couple of possibilities, but mostly we just left this option open as we weren't sure when or where we'd have the opportunity.
After leaving Gooseberry Falls State Park, we headed north to Tettegouche, the next park on our list. True to form, the first thing we did was take a trip to the visitor center to check out our options. I talked to the ranger and when I mentioned we were thinking of a serious hike or possibly backpacking in the area, he highly recommended George H. Crosby Manitou State Park. There is no front-country campground, so the park is quiet, peaceful, and relatively unknown.
Just the way we like it.
When We Visited: September 8, 2015

Ages of Kids: 9, 8, 5

Total Mileage: 3.2 miles in, 3.5 miles out, 1 night.
Packing for this one was quick. Sam worked and the kids did school in the morning, and then around 1pm we started pulling out all the gear. Rachel and I threw together some quick Freezer Bag meals, and by 3pm we were headed out. It was only a 30 minute drive to the trail head and we were all feeling pretty good getting started along the trail.
Backpacking trip #2!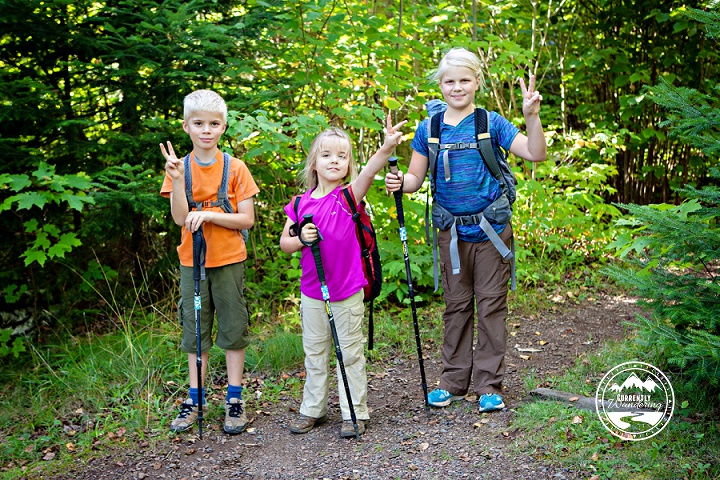 Within the first 1/2 mile or so we found one of the markers for Minnesota's Wildflower geocaching program. So, we took a short detour to find it.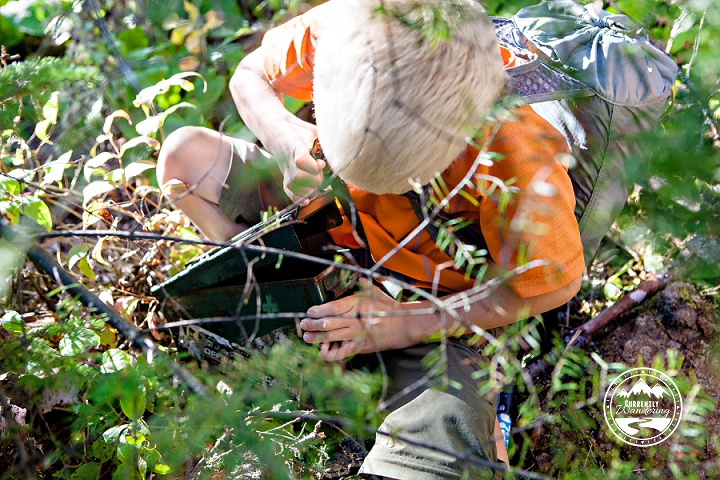 This hike was a little longer than our first on the Apostle Islands, and there was definitely more elevation involved. We started around 3:30pm and hiked in about 2.3 miles. We started passing campsites and were counting up to #6 when suddenly, at the top of a small hill we were there! Or so we thought. The campsite marker was along the trail, and we could see where previous campers had a fire ring and stacked logs around it to sit on. Upon further inspection of the area, there wasn't really a flat spot sans roots for the tent, and no where was the pit toilet or bear pole that had been promised in the site description.

I seriously almost cried. There had been some frustration all around getting going on this trip and to have a completely non-epic site was not helping. We collectively took a deep breath, dropped our packs, and set out to explore a bit more and see what we could find. Sam continued on the trail to possibly see if sites 7 or 8 were available, and the kids and I climbed the hill to the "overlook" to see if there was anything up there.
We found a large, flat rock with the remains of more than one campfire (and one amazing view!) and then just back into the trees a bit we found it! An official, metal fire ring. We kept exploring and found a flat spot for the tent, and even the toilet! Hooray! We wouldn't be sleeping on roots or digging holes.

We never found the bear pole, but we easily found a decent tree to bear bag our food. The kids thought it was fun and we figured it was a good teaching moment anyway. Not every site we camp at will have a bear box.

Our evening was pretty chill. After setting up the tent, we brought our food down to the "dining room" and the kids played cards while Sam and I cooked up some dinner. We tried two new meals on this trip and both were great! We had mashed potato, stuffing, chicken with cranberries (tasted like Thanksgiving dinner!), and then for breakfast we did chocolate banana oatmeal.

The weather was a bit chilly in the morning, but dressing in layers makes the temperature manageable. From the dining room we could see Lake Superior off in the distance which reminded us we were still along the "coast".


After breakfast and packing up, we opted to hike the "long" way out and add in the loop around Bensen Lake. It was flat with boardwalk the entire way around the lake and a super fun way to end the hike! We stopped at the picnic area and ate lunch before hiking the short distance out to the car and back to the Airstream at Tettegouche State Park.

This park is definitely doable with young kids! We checked out some of the sites around Bensen Lake (Sites 20, 21, & 22) and they were beautiful and not that far from the parking lot. As parents, you could even take a couple of trips lugging gear if you didn't have packs.
Highlighted in green below is the route we took. We started on Middle Trail, turned off onto West Manitou River Trail, and camped one night at site #6. On the way out we followed Misquah to Yellow Birch, cut through next to campsite 20, around the lake, and then back to the parking lot.

While a bit logistically strange, we really enjoyed the peace and solitude at this park! The kids now had another solid over nighter under their belts, while Sam and I were gaining confidence spontaneously camping in the back country with kids. Definitely a win-win situation!
Related posts: