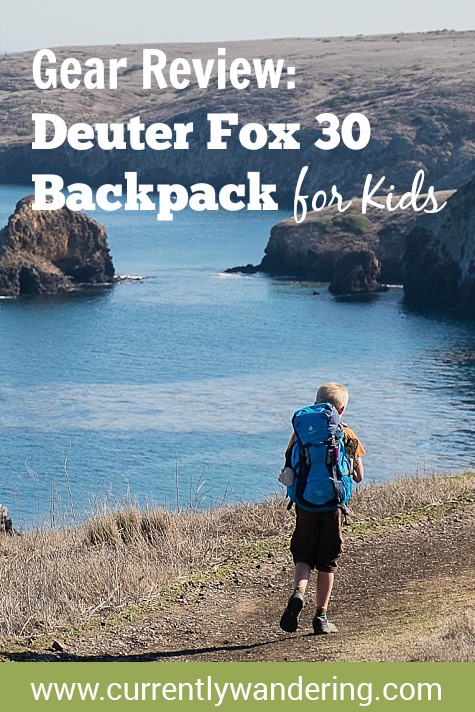 We started backpacking with our kids in 2015 with a fun 2 night, 3 day trip to the Apostle Islands National Lakeshore. We used the packs we had on hand, which included small, and slightly uncomfortable day packs for both Andrew and Cara. They weren't designed to hold much weight (which was fine) but also were a bit bulky and pulled on their shoulders more than we wanted.
After completing two more backpack trips as we traveled around Lake Superior we decided it was time to upgrade. As we looked around at pack companies , the clear winner was Deuter – the same German company that we had bought our Kid Comfort III carrier from we were still hauling toddlers around on our backs.
I contacted Deuter hoping to get in on their family ambassador program, but alas. They currently had all the ambassadors they needed. Instead, their representative graciously sent us the Deuter Fox 30 Kid's pack to review.
I had originally planned for the pack to fit Rachel (age 10) but after trying it on we felt the bag was slightly small for her as she's pretty tall. Luckily, it fit Andrew (age 8) perfectly.
Testing Duration: 3 days, 2 nights on Cumberland Island National Seashore; 4 days, 3 nights on Channel Islands National Park
Best Uses: Short backpacking trips, or longer day hikes.
Quick Specs: 2.6 pounds, 30 liters, 60/23/22 (H x W X D) cm
MSRP: $99
Find it: Fox 30 on Amazon, Fox30 at REI
Vari Quick Adjustable Shoulders Straps:
One of my favorite features of many of the Deuter backpacks are the adjustable shoulder straps. There's nothing worse than buying expensive gear only to have your child grow out of it within a few months. With their Vari Quick system, the shoulder straps are easily adjustable and can grow with your child.
To size the pack, we adjusted the hip belt so the pack sat firmly on his hips. Next we determined how far above his shoulders the straps were and adjusted them up or down as needed. The straps shouldn't sit right on shoulders, but are more for balance. Most of the pack weight should be on the hips.
Padded Shoulders & Hip Belt
The Fox 30 also has plenty of padding on both the shoulder straps and the hip belts. One reason day packs are so light is either the lack of a waist belt, or a simple buckle to keep the bag from swinging around. Totally fine if you are doing a quick day hike, but for multi-days the straps start to wear on your shoulders. I've also had plenty of bruised and sore hips from carrying my pack on a multi day trip and didn't want that for my kids.
I do wish the pack had pockets on the hip belt. We call this our "garbage" pockets and its easy for kids to stash small candy wrappers (hiking incentives) or even to stow away trash they find along the trail as we are hiking.
Hydration Compatible
This pack is hydration compatible – although you wouldn't know from my picture! Ha! Not sure why we just stashed the bladder on top, but the pack does have a zippered pocket to slide water into. I love it when our kids carry their own water and can sip as we hike. It definitely keeps them more hydrated!

Compression Straps & Outside Pockets
I love the stretchy pockets on either side of the bag. Its super easy to shove a puffy vest, or stuffed animal in those and I don't have to worry about anything falling out. Andrew loves hooking his pocket knife to the daisy chain, and there are bungee cords to strap on a hiking pole if needed.
Overall I feel like there are possibly too many straps. Sometimes we don't hook them all together and they dangle, or we get them mixed up. It is nice to have a tightly cinched pack, but I'm not sure this one needs two on each side.

Bottom Access
Many packs have both top down and bottom access. This makes packing the bag, and getting things out a bit easier as you can separate your gear more nicely. Its easy to stuff his sleeping bag and pad down in the bottom and then pile everything else in through the top. This doesn't have a divider though which I actually prefer to keep weight higher up, but it works just fine.
This pack is the perfect size for Andrew to carry just his stuff without being overly heavy. We've tried to accumulate light weight gear so he can take his sleeping bag, pad, clothes, animals, water, and kindle while still being able to hike 4 or 5 miles.
The Fox 30 is basically an adult back shrunk down to fit a child roughly ages 7 – 10 years old. It has many of the features I like in my own bag and helps Andrew to feel capable while carrying his own gear on a hike. If you are looking for a starting backpack for your child, we definitely recommend getting one of these!
Related posts: