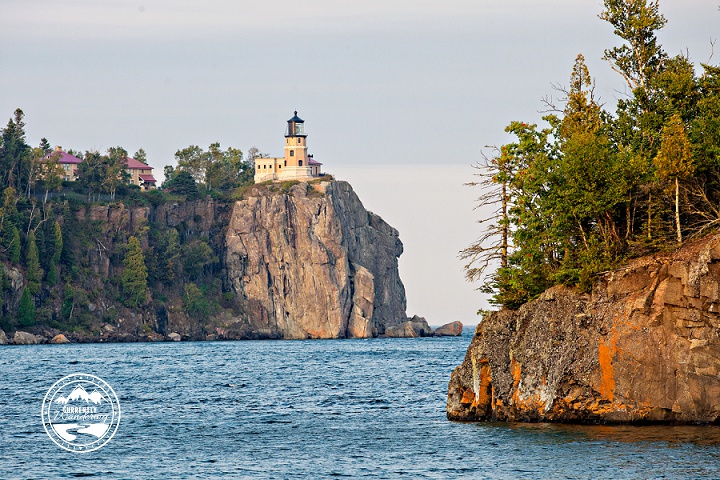 Travel Dates: August 27 – Sept 11, 2015
The "North Shore" is the section of Minnesota from Duluth to Grand Portage along the Lake Superior coastline. I had heard amazing things about this section of Minnesota and had been ready to visit it since we first set foot in the state. After some plan changes and a few detours we finally made it. The landscape, state parks, and adventures did not disappoint!
Ages of Kids: 9, 8, 5
Places We Visited: Duluth, Gooseberry Falls State Park, Split Rock Lighthouse State Park, Tettegouche State Park, George H. Crosby Manitou State Park, Grand Marais, Grand Portage, Grand Portage State Park
There were a couple of logistical complications with staying along the north shore. The first was that I knew it there was plenty to see with 8 state parks, plenty of small towns, and more waterfalls than we could probably count. I also knew we couldn't see all the things, but wanted to spend more than a week exploring this section of Minnesota.
Complicating things even further, there was a church in Duluth and then another one across the border in Thunder Bay, Ontario. That means we had only a week if we wanted to make it to church both weeks. So, we improvised.
Instead of driving up the north shore a good distance, we stopped at Gooseberry Falls (the first state park north of Duluth) and grabbed a walk-up site for 6 days which would get us through Labor Day and was only an hour drive back to church in Duluth. There was plenty to see and do at Gooseberry and we could take a short day trip up to Split Rock Lighthouse State Park somewhere in the middle.
Our plan worked amazingly well! While there was still plenty we didn't see, I felt like we were able to immerse ourselves in a beautiful section of Minnesota and really enjoy it!
Read on for a play by play of what we did along the way: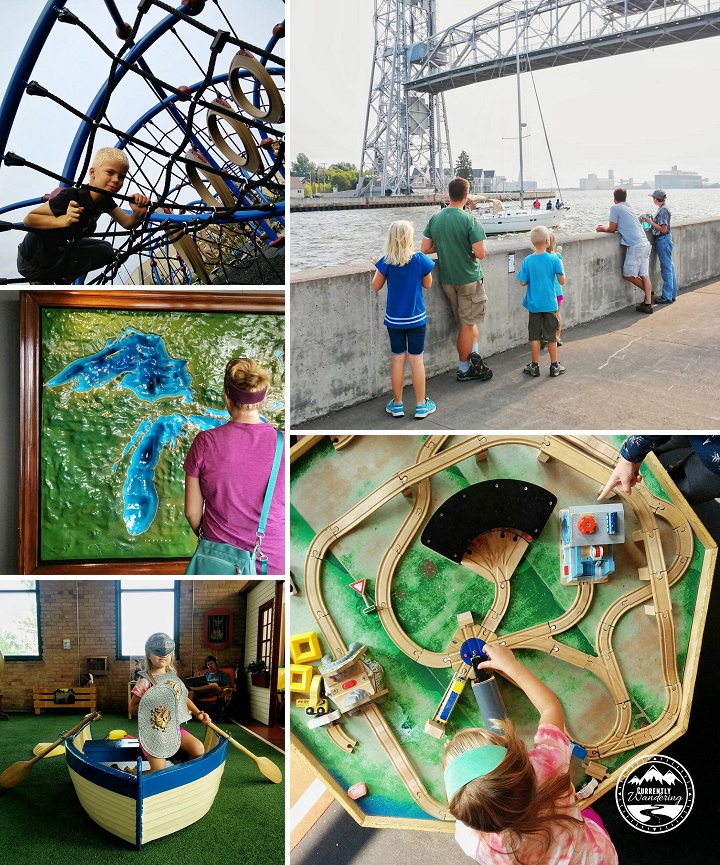 First stop along our route was the city of Duluth. We were having problems with our trailer brakes, so we dropped the trailer off at a local shop and spent the morning at the children's museum. Sam had headphones and his laptop to get some work done and the kids had a great time playing.
After grabbing some lunch downtown at the Northern Waters Smokehaus, we wandered around Canal Park for a bit, and then spent a good hour at the public library waiting for the call that the trailer was finished.
Once we picked the trailer back up, we headed for our camping spot at Indian Point City Campground. After trying to level the trailer in one spot and failing, we went back to the office to see if they had anything else available and ended up in the perfect corner spot. Lots of green space to stretch out in.
We also visited the Lake Superior Maritime Visitor Center which was free, totally interesting for Sam and I, and completely bored the kids. We enjoyed watching the Aerial Lift Bridge rise for incoming sailboats, ate ice cream, road the trolley, climbed the tower at Enger Park, and I even got in a short mountain bike ride.
It was a packed, but thoroughly enjoyable 4 days!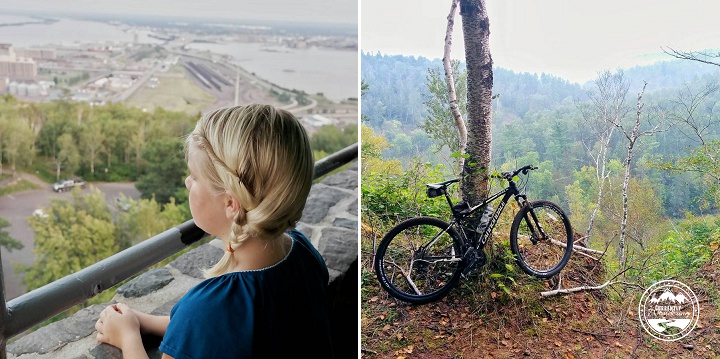 Tuesday morning we started our trek north along the shore. We found an epic pull off for lunch, and spent some time admiring the rugged coastline and the amazingly clear, blue water of the lake.

The ranger at Gooseberry Falls State Park was surprised we wanted to stay for 6 days. I think most people pull in for a day, two at most and then move on. We loved hanging out at this park. There's plenty to see & do and we had great site with a tree the kids turned into a fort.

Sam and I separately rode the Gitchi-Gami bike trail from Gooseberry Falls to Split Rock Lighthouse. The trail is paved the whole way but has some pretty good climbs and I'm glad we didn't take the kids. See my review of this ride on The Outbound Collective here.

My favorite thing, by far, about this section of our trip was the pie at Betty's Pies. Oh. My. Goodness. It was so good we want back for round two and were even tempted to squeeze in a third visit but decided we didn't want to appear greedy. If you go, get the Pig Trough. It has three slices of pie (different kids), 4 scoops of ice cream, whipped cream, and chocolate syrup. We downed it in less than 5 minutes. Twice. You can also order online and have a pie shipped to you which is awesome.

Evening trip Split Rock Lighthouse with beautiful light and rock scrambling. Perfection.
Related blog post:
Not Going Back to School And Happy About It

Our next stop was Tettegouche State Park. While we were backing into our site and unhitching we blew one of our truck airbags. Oops.
The rangers were fantastic and let us Prime ship a replacement from Amazon to the visitor center. We just couldn't pull the Airstream out of our site until we had fixed it.

While we were waiting for the replacement to come in, we decided to do an overnight trip into George H. Manitou-Crosby State Park. The ranger had recommended it as one of his favorite places to hike, so we thought we ought to check it out. It was absolutely beautiful! I think we are probably the only people that leave their trailer in a state park so they can backpack in another nearby one.
Related blog posts:
 Trip Report on the Outbound Collective
The Camping Spot We Almost Didn't Find

We were able to vacate our site on Thursday at 4:10pm (only 10 minutes past check out!) and headed north once again. This is where things got a little rough. We were planning to stay at  Cascade River State Park, but there wasn't a site left we could fit in so we kept moving to the city of Grand Marais instead. We stayed at the Grand Marais City RV Park with our goal being to eat fish & chips which we did at Dockside Fish Market.
Sam and I also snuck out for dessert at Sydney's Frozen Custard (amazing roof seating!), and we picked up some World's Best Donuts (they really ARE that good) for breakfast the following morning. For a small, tourist town Grand Marais has some great food!


Next stop was Grand Portage. We stayed at the RV park near the Casino as it was really our only option. It wasn't bad as we had a great view, but the internet was pretty spotty since we were so close to the Canadian Border.
Our favorite stop (and main reason for being here) was to visit Grand Portage National Monument and continue our education of the beaver fur trade and the voyageurs. We participated in a guided tour of the fort, hiked to the top of Mount Rose, and earned our Jr. Ranger Badges.

After changing some cash from American to Canadian, it was time to cross the border into Canada! We had one last stop at Grand Portage State Park to see Minnesota's highest waterfall and the reason the voyageurs had to portage their canoes around this section of the Pigeon River. The kids also turned in their Pinelands Minnesota State Parks Jr. Ranger Naturalist books and received their patches.

Next up, Canada!
Related posts: