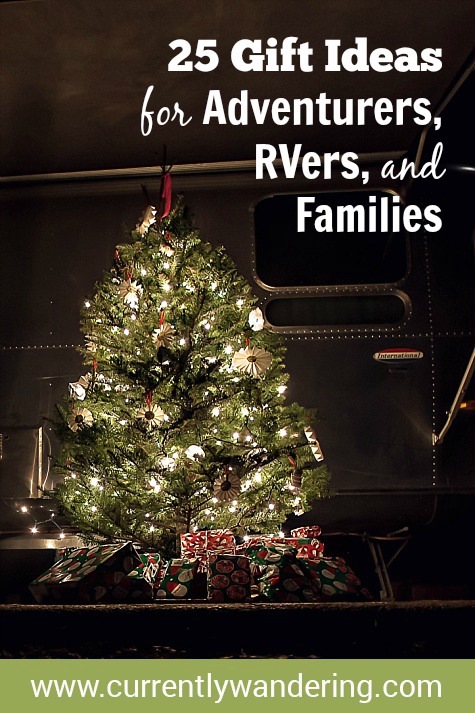 Its time for the holidays! While we are avid "no Christmas tree before Thanksgiving" kind of people, I also like to get my shopping done early. Notably, I do most of my shopping at Amazon which is why you'll find many of these items. No joke. Even as a traveler. We tend to be near friends or family for the holidays and its super easy to ship all our stuff a few days before.
While we have most of this gear already, there are a few I wouldn't mind seeing under the tree this year. If you are looking for holiday gift ideas for an Outdoor Adventure Enthusiast, an RV traveler, or even your family we are here to help!
This post contains Amazon & REI affiliate links which help to fund the blog in a small, small way. Thanks for helping us out by clicking through to shop!

Gifts For the Adventurer
1. Oru Kayak: I got to play with one of these at Outessa. They fold up into the size of a suitecase but are sturdy enough for any paddler.
2. SHREDLY adventure clothing or Zoic Bike Clothing: I just wrote about SHREDLY a few days ago, and Zoic is another company I've purchased bike clothing from. Both are great brands!
3. KEEN Hiking Shoes: Our whole family is decked out in KEEN now and we love promoting their fabulous shoes and great family values.
4. Nite Ize Radiant 250 Rechargeable Headlamp: We were just sent some headlamps to review this last week and are already blown away by them. These suckers are BRIGHT. Love that they are rechargeable so we don't need more batteries floating around.
5. Darn Tough Socks for Women, Boys or Girls. My all time favorite socks. Period.
6. GoPro HERO5 Session. This is one of those things we could use under the tree from Santa. We have the Hero 3+ right now and the Session would be an awesome upgrade. Anyone?
7. To Live World Map: LOVE this map. We have their My Adventures map in our Airstream, but love this one for the non space constrained.
8. Rumpl Down Puffy Trekking Blanket. These look SO comfortable. I've heard great things about them and taken a look at REI. An all around, tough, outdoor blanket. Maybe I'll get my hands on one to do a very thorough review.

Gifts For the RVer
9. Audible Membership: We RV or Airstream travelers drive. A lot. Audible books are a great way to pass the time or even to listen to as a family. We've been gifted several books (doesn't even have to be a membership). One of our favorite stories is Peter and the Starcatchers by Dave Barry. Great series.
10. Gift Cards for National Food Chains (like this one for Coldstone): We LOVE getting gift cards. It seems silly, but cards for places like Coldstone, Panera Bread, or Texas Roadhouse go down really well around here.
11. Magma Stainless Steel Cookware Set: If you *really* love your RVer you could get them this pot set. I've had mine going on 3 years and couldn't be happier with it.
12. Cute Adventure Pillow from Etsy: Lots to choose from if you look around! While we are picky about what comes into our Airstream I don't know anyone that would say "no" to a good adventure pillow.
13. Airstream "Rivet Trailer" Pint 4-Pack: Sturdy, dependable, functional, and who doesn't love Airstreams?
14. Leatherman Signal Multi-Tool with Nylon Sheath: I met some Leatherman people at Outessa and then again at an Outdoor Blogger Summit. Solid company and really great multi-tools. The Signal is my favorite.
15. Airstream Jewelry: Love this set from Airstream brands!
16. Collapsible Salad Spinner: Collapsible anything really. We love saving space. We also have a collapsible colander, a bowl, and I've had my eye on this collapsible tea kettle for quite some time.
17. Kindle Paperwhite & Fintie SmartShell Case Cover: Books are hard to store, and while a lot of our space is taken up by kids books we love having a kindle. Pair it with an Overdrive account at your local library and there's plenty of easy reading to be had!

Gifts For the Family
18. Dominion Card Game: We've just gotten back into Dominion with all our kids. I love that there are a hundred + different card combinations to play, plus a gazillion expansion sets. Definitely for older kids. Cara (ages 6) does decently well but she's been trained into it.
19. Woom Bike (any size!): Probably will be on every gift list I ever create. I absolutely love these bikes the company that makes them! Lightweight & good quality. Worth every penny.
20. OgoSport Mini OgoDisk: Remember KOOSH ball? Similar and super fun. We get a kick out of playing around with this as a family.
21. Perky Jerky: Gotta keep your family fueled! This is the best jerky we've ever tasted. Snacking, in the car, out on an adventure, you name it. We eat it ALL the time.
22. Complete Book of Chalk Art Lettering: We got into Chalk Art because it was an easy way to be craft without getting too deep. Super fun!
23 So Much S'more to Do with Fireside Forks: We put together gift baskets one year with this S'more book and the ingredients to make a few of them. Add in some Fireside Forks (see our review) and you'e got a pretty great gift!
24. GUBS Card Game: One of our favorite kid friendly games. Easy to play, and it only last 15-20 minutes tops.
25. Scientific Explorer Wizards Only Kit: We had one of these pre-traveling and the kids LOVED it. So easy to learn when they think they are just playing.
BONUS: Jamstik+ guitar: Rachel and I have been learning the guitar this year with jamstik+ and their jamTutor app. Its been super fun and I've been really impressed with the portability of this instrument!  **If you are interested in a colored jamstik+ (they only sell black & white on Amazon) use code "CurrentlyWandering" on their website and get 15% off! **
Also check out: Currently Wandering's 2015 Holiday Gift Guide
If this isn't quite what you are looking for, check out these other amazing Gift Guides from some of the best adventuring family experts I know!

Related posts: