On the suggestion of multiple full-time Instagram friends, we stopped at Skidaway Island State Park for a few days on our journey south to Florida. There is a reason they all said it was their favorite spot in the entire country.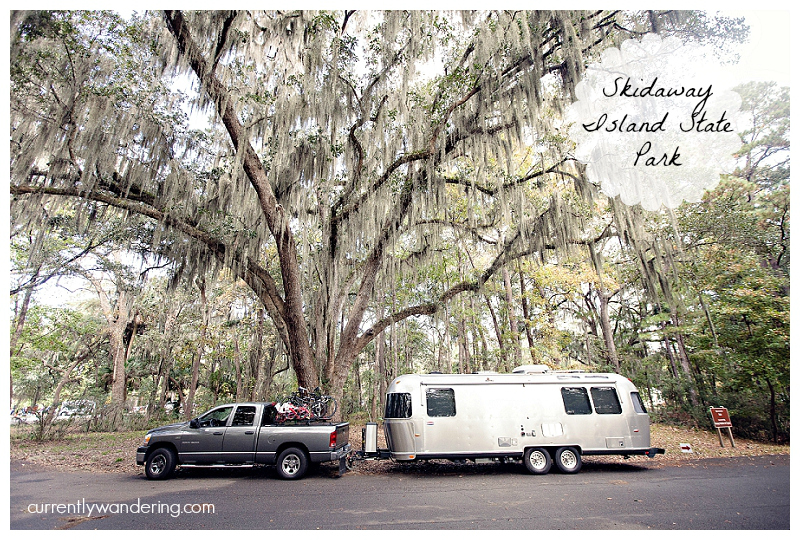 When we visited: November 2013

Ages of kids: 8,6,3

Highlights: Beautiful trees, spacious campsites, full-hook ups, trails, playgrounds, nature center, clean showers, washer and dryer
I now have a love affair with Spanish Moss and those gorgeous trees. I'd never really even seen Spanish Moss before and this was a perfect introduction. I seriously couldn't get enough of it, and neither could the kids.

We spent a relaxing 4 days at this state park, but I think I could have stayed for 2 weeks. Located about 25 minutes south Savannah, Georgia, the park is easy to get to, has plenty of activities for kids, and is in close proximity (20 minutes) to a grocery store. There are 2 playgrounds, a nature center, and miles of trails to explore either on bike or on foot. We took the kids on a 3 mile bike ride (we walked, they rode) and explored an old moonshine still (from bootlegging days), and a civil war battery site. They also have patches the kids can earn similar to the Jr. Ranger Badges at National Parks.


My kids also made friends with some other full time kids and they spent hours making "forts" among the palm trees, creating spears out of dead palm fronds, and generally running around having a good time. I definitely recommend staying here and we can't wait to go back someday!

Related posts: