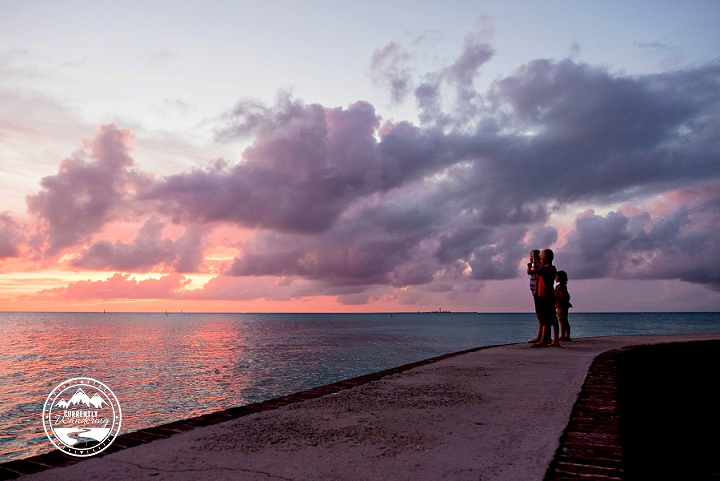 New Year's Eve found us sitting on a moat wall outside a Civil War era fort on an island 70 miles from Key West. We laughed, talked, reminisced, and watched the brilliant reds and oranges of the sunset paint the sky as the sun dipped below the horizon.
In that moment, I couldn't think of any place I'd rather be. I was surrounded by my husband and kids in a magical place as we explored, pushed our personal boundaries, relaxed, and enjoyed each others' company.
We each took turns voicing our favorite adventure from the year as well as speculating on where 2016 would take us. The possibilities were endless. When we sold our house and decided to travel two years ago, an entire world opened up to us. Suddenly we could do anything, and be anything we wanted and that feeling hasn't changed. We continue to feel liberated with the freedom to create and shape our family without many of the social pressures we felt while living in our house.
We aren't the type of people that make solid New Year's Resolutions. I can never keep them anyway, so I prefer to make shorter, easily attainable goals that help me progress throughout the year. Or if they aren't easily attainable, I prefer vague, broad goals that easily have a chance of me hitting them without trying. Some of those include, "continue to eat healthy and exercise regularly," or "try something new"
Nestled in the broad goals that may eventually become more specific, there are also a few things we do plan on doing or seeing this year. Unfortunately, the ever elusive state of Maine is not on this list, but eventually we'll get there too.
In 2016 we'd like to:
See a rocket launch
Explore Arkansas
Go on a multi-day river rafting trip
Backpack in the Sawtooth Mountains, Idaho
attend Camp Noyo with Sam's family
Teach our kids how to ski
Its not a long list, but I don't feel it needs to be. I feel like this year will be less about states we visit, or Junior Ranger Badges we earn, but the outdoor adventures we go on together as a family. I can't wait.
Related posts: