After our busy spring schedule, I made the conscious decision to not blog over the summer and it was such a relief! We've had a fabulous couple of months back in the Airstream and thoroughly enjoyed spending quite a bit of time with family and friends as we've explored.  At some point, I hope to be able to do detailed blog posts on the places we've been, but for now I thought I'd do a quick summary and also let you guys know what our plans are for this fall.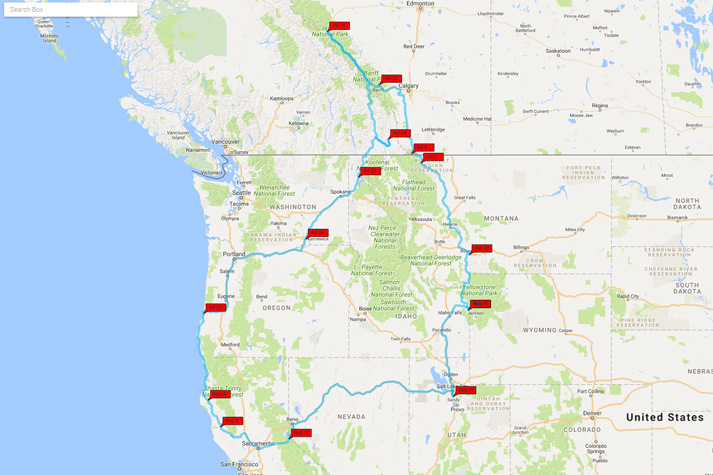 Canadian Rockies Loop
Last summer as we were hanging out with my brother's family in Grand Teton National Park, we started scheming about a great Canadian Road Trip. They had always wanted to rent an RV and do some extended traveling, so we tossed out the idea of going up to the Canadian Rocky National Parks. It stuck. We reserved campsites as soon as they went online (somewhere around March) and generally had our path planned in advance. Totally different for us as we usually fly by the seat of our pants, but we really enjoyed it! I had a few moments where I was frustrated we couldn't stay longer at one park or another but overall our schedule was pretty spot on.
We started at Glacier National Park, and then drove up through the parks to the Canadian sister site of Waterton Lakes National Park. Both parks definitely had a similar feel, and of all the National Park townsites (towns right in the National Parks) Waterton was my favorite. Just a super cute, not crazy busy downtown area with shops and restaurants.  We hiked, we canoed (all the things!) and generally kept ourselves WAY too busy. I feel like we were in "go" mode all the time but we definitely got to see quite a bit of the parks!
Next stop was Banff National Park where we camped at Two Jack Lakeside. It was gorgeous! Banff was definitely a busier park, but we tried to get out early and since it was light until at least 10pm we were out late most days as well.
We parted ways with my brother as they headed up to Jasper and we joined Tanya Koob from (www.rockiesfamilyadventures.com) on a 2 night backpacking trip in Yoho National Park. This was our first hut experience and it was a blast! We loved having a dry place to hang out (it poured rain the first night), a full kitchen, and a roof over our heads at night. Next time I'd bring pancakes instead of our normal freeze dried meals, but that's about the only thing I would change. We met some amazing Canadians and all had a blast with our Back Country Olympics.
We rejoined my brother up in Jasper for two nights, and after they left we had another 4 days to just chill and enjoy the park. It was incredibly relaxing! After our backpacking trip, the kids were all hiked out so we went ice skating at the local rink, and did a white water rafting trip with Maligne Adventures on the Athabasca River. Sam and I also snuck in a date night up the Jasper Tramway and hiked to the peak. The views up there were incredible and I always love doing outdoor adventures with Sam!

We drove down the Icefields Parkway on our way south. The views along this drive are amazing. We stopped at the Athabasca Glacier, but you can't really get too close to the glacier, and after scrambling on one during our Yoho backpacking trip it really wasn't all that exciting. We also managed to squeeze into a road side parking area and do the short hike up to see Peyto Lake. All of the stops along the Parkway were super crowded so we didn't stop to see much else. Totally worth the drive though!

We then spent 5 days in Fernie, B.C. I had heard years ago that it was a good mountain biking town, and it definitely did not disappoint! We also met up with Leanne and her family (www.borntoadventure.com) and the kids had a blast hanging out for a few hours. We learned that Canada really does have difficult trails – everything feels like its straight up without switchbacks. The kids did great though when we finally realized everyone does better when we split up. Cara still struggles and needs easier trails, and the other two like rides a bit more advanced.

Our trip into Canada was surprisingly not stressful. We have a credit card with no foreign transaction fees, and with our T-mobile plans we were able to hotspot and get work done. The only painful part was that we didn't exchange cash from the beginning which made doing laundry complicated.
Oregon Coast, Camp Noyo & the Eclipse
We crossed the border north of Sandpoint Idaho, and spent an evening hanging out with the McCartie's at their homestead. We met them on their RV trip a few years ago and loved to see them happily settled on their gorgeous property. I've always said that meeting people is one of my favorite parts about traveling and having friends all over the country is a bonus!
At the last minute we made a decision to divert to the Oregon Coast instead of continuing on to Bend, OR as planned. The temperatures were projected to be in the 100's and that just didn't sound fun at all. We found out our friends the Bareneckers were settled in a quaint state park and that sealed the deal. We enjoyed hanging with them for few days, and the kids had a blast playing together!

Sam's family does a reunion at Camp Noyo every summer, and even though the scout camps are no longer running, we are still able to go in for a week every summer. Its really our happy place. Bridge jumping, paddling, outdoor movie nights, shooting range, lots of games, good food and family. Definitely my idea of a vacation.

On our way back to Idaho for the solar eclipse, we stopped at Lake Tahoe for the weekend to see our friends the Erickson's. They are our outdoor adventure friends from Utah but had been spending the month in Tahoe renting a house. They also has just purchased an Airstream and were about to set out north for their first extended trip! We have kids pretty much exactly the same gender and ages and they get along really well. Movie nights, beach time, and bike rides. It was a great weekend!

After a quick stop in Salt Lake City to see my family and for Sam and I to escape for a night to celebrate our anniversary we made it back home to Driggs, ID! We had rented out the condo, so we camped for the week in my brother-in-law's backyard. A bunch of the Curren side came up for the weekend as well as a lot of my sister-in-law's family. We had a great weekend hanging out, and the eclipse on Monday morning was absolutely one of my favorite experiences ever. Being on the line of totality was incredible and something I will never forget!


Fall Plans
In less than a week we will be on Oahu, HI. I still can't wrap my brain around that. We are pretty much packed, and now just need to winterize and store the Airstream, and make the trek out to San Francisco to catch our flight on August 30th.
We are still ironing out school for the 2017-2018 year, and while everyone else seems to be starting the new school year this week, we are still finishing up last year! It seems we take quite a bit of time off during the year to play.
Sam is teaching a computer science class at BYU-H, and we are renting the townhouse of a friend. I waffle between being incredibly excited to experience a new part of our country, and trepidation for having to sit still for 4 months. It will definitely be a challenge, but overall I think we will grow in ways that we haven't been able to experience for the last 4 years on the road.  I have so many plans to get caught up on ALL the projects, but realistically you'll probably find us at the beach.
Aloha!
Related posts: