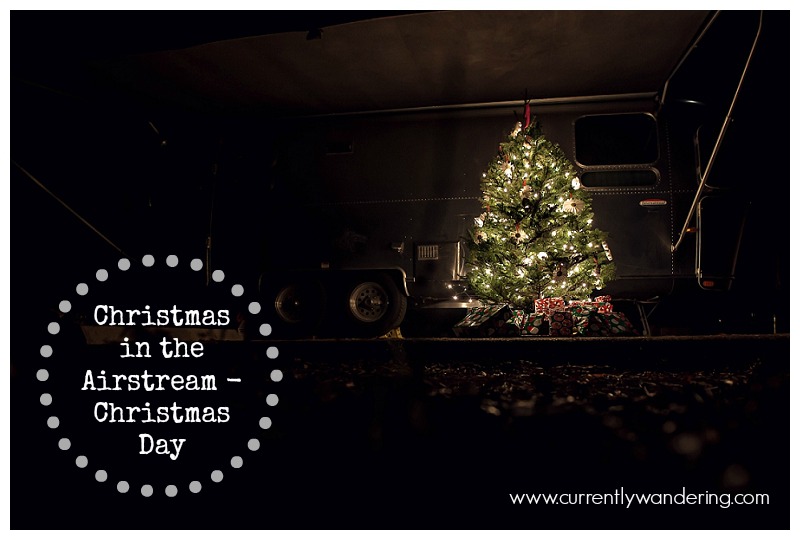 This post is Part 4 of a series on our first Christmas experience living full-time on the road in an Airstream. Here's also Part 1, Part 2, and Part 3.
Our kids were very worried that Santa wouldn't find us this year, with all our moving about. We assured them that we would make sure he knew right where we were.
Before leaving the night before we had brought all the presents inside the Airstream (just in case), so Sam & I set our alarm and woke up at 5:30am to sneak the presents back out and to check if Santa had found us. Rudolph had indeed pulled through as there was a pile of new "Santa Stopped Here" wrapped presents under the tree! After taking a few photos, we climbed back into bed and cuddled until the kids woke up at 7am.
Our stockings were inside and we opened those first, and then put on our coats and shoes to go out and see what else Santa had brought. We told the kids to bring them back inside, but once they saw the presents, Andrew couldn't help himself he just HAD to open one right then. "Mom!! I know he brought my book. It feels like it! Can I open it PLEASE?" Andrew begged. So, they all opened their one big gift from Santa right there on the pavement in front of the tree. Andrew had asked for a new Marvel Avengers book, Rachel wanted a matching outfit for her American Girl Doll, and Cara wanted new Duplo Legos.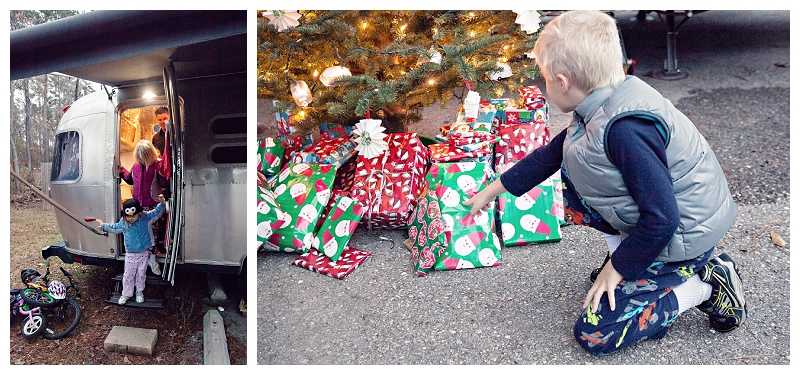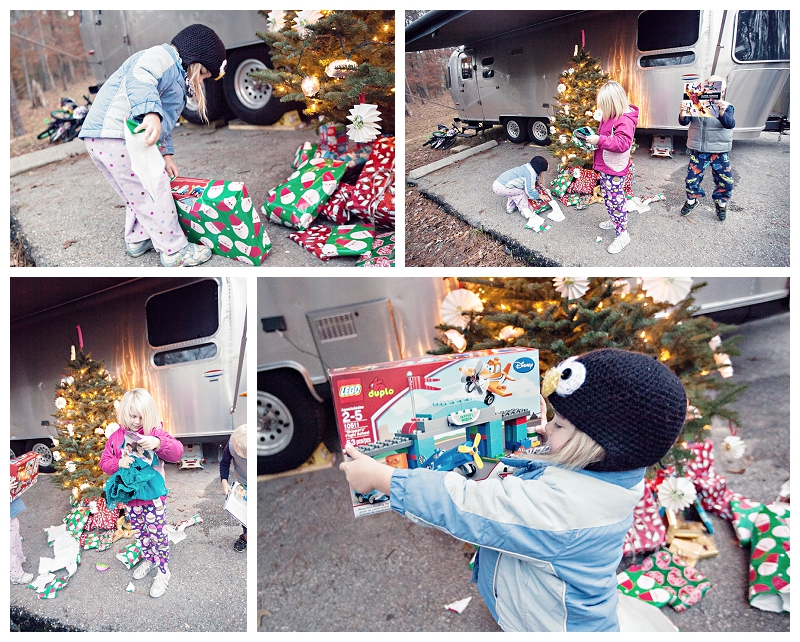 After that, we carried all the presents back into the Airstream and spent the next 30 minutes creating a mess of wrapping paper, ribbon, and boxes. We really tried to spend & get less this year. A lot of our Christmas presents were needs (new shoes, accessories for the Airstream, and lots and lots of books) but Sam & I did also buy the kids each one new toy. Andrew received the Bakugan Dragonoid Colossus, Rachel got a puppy to go with her American Girl doll (I'm sensing a theme), and Cara got new "super duper runner shoes".
Rachel also *really* wanted to buy Cara & Andrew presents, and that in turn, led Andrew to pick out one for each of his sisters. Here's Cara opening her Transformer that Andrew picked out for her. Love the expression on her face!

I bought Sam new shoes, a Life is Good "Man Up" long sleeved t-shirt, and from Santa he also got a NFC-enabled Bluetooth Audio Receiver that works like a charm. Santa brought me a new Kindle Paperwhite (ridiculously excited) and Sam bought me a phone stabilizer for better vlog style videos, and a wireless charger for my phone.
I made scones for breakfast while Sam filled up a garbage bag or two with wrapping and boxes, and put the table back up so we could eat. After breakfast, the kids happily played with their new toys all morning. For most of the day we were content to just be. We didn't go anywhere (other than a walk in the afternoon), and we just were able to relax, spend time together, and enjoy the beauty of Christmas. We had a simple dinner and played one of our new games. No stress, no deadlines, nowhere to be.
It really was the Best Christmas Ever.
Related posts: