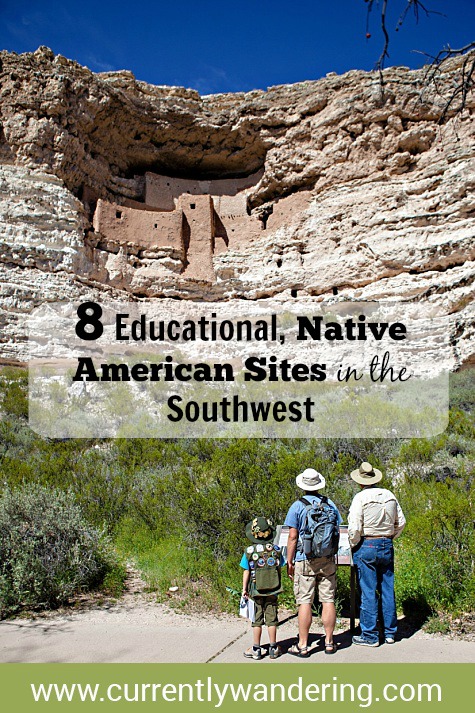 We did a semi-unintentional Native American Unit Study this winter as we wandered around Arizona & Southern Colorado. This area is full of history, artifacts and culture and we enjoyed all of it!
We hit the first one on our own after leaving Phoenix, then we had Sam's dad join us for the two near Cottonwood as he was driving through and wanted to see his grandchildren. We picked up 3 during Spring Break with our friends in Flagstaff, AZ and then hit the other two on our way north as the weather warmed up.
Surprisingly, none of my kids got bored or had a "we've already seen this" attitude. Each place was unique – whether it was a cliff dwelling tucked into the side of a mountain, or a veritable fortress built on top of hill. This made it fun to compare and contrast and learn about the different ways these ancient people lived.
When We Visited: Spring 2015

Ages of Kids: 10, 8, 5
1. Tonto National Monument – Roosevelt, AZ (nps.gov)
We visited Tonto National Monument while staying at nearby Roosevelt Lake. The kids and I took a morning and drove the 20 minutes from our campsite to the Visitor Center. After getting our Jr. Ranger books, we worked on them, watched the video, and then hiked up the trail to the actual ruins.
These guys knew how to build a house with a view: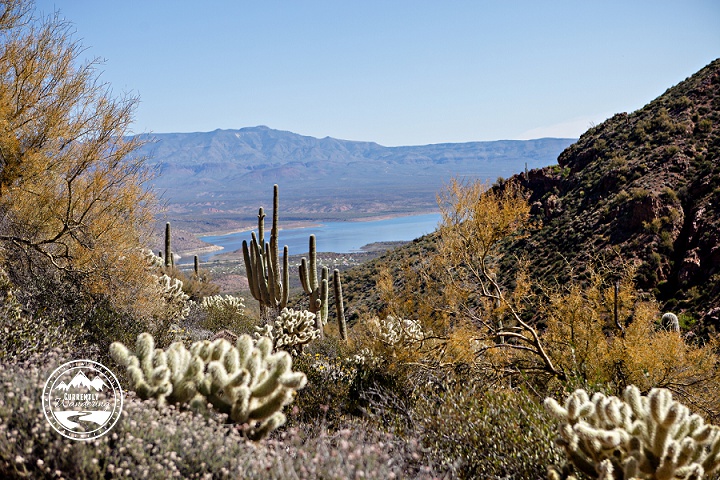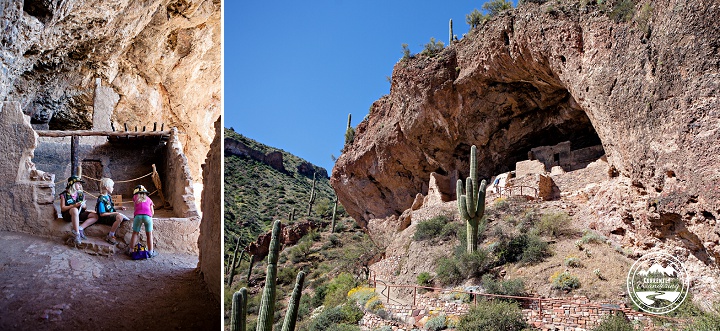 The BEST part about the whole day was being told by the volunteer that someone had just spotted a Gila Monster next to the trail. We raced down and saw this showdown going on:

We sat and watched for at least 15 minutes. The Gila Monster preys on young animals, so we assumed the squirrel had a nest somewhere under the bushes she was protecting. The squirrel was way too fast for the slow moving Gila Monster and she succeeded in pushing him farther and farther away. It was fascinating!
2. Montezuma's Castle National Monument – Camp Verde, AZ (nps.gov)
This was a short trip from Dead Horse Ranch State Park in Cottonwood where we were camped for a few days. Sam's dad was driving through from Philmont Scout Ranch in NM and joined us for a day of exploration. We were there maybe an hour, and the ruin are just a short (paved) walk from the Visitor Center.

3. Tuzigoot National Monument – Clarkdale, AZ (nps.gov)
North of Cottonwood and maybe 10 minutes from Dead Horse Ranch SP is another National Monument. Tuzigoot is a set of ruins built on top of a hill, rather than into the rocks on a cliff. My favorite part was the pottery they had found and pieced back together. Plain jars for everyday use, and fancy, colored ones for trading. This made TWO Jr. Ranger Badges in one day. My kids were not happy with me.

4. Walnut Canyon National Monument – Flagstaff, AZ (nps.gov)
We drove to Walnut Canyon from nearby Flagstaff where we were celebrating Spring Break with our friends from Lehi, Utah. This set of ruins is positioned in a horseshoe curve in the canyon and there are dozens of ruins all up and down the walls of both sides. We hiked down the stairs and took the walking path around the middle of the 'island' in the middle of the bend. I loved how up close and personal we could get with the ruins. This was probably my favorite!


5. Wupatki National Monument – Flagstaff, AZ (nps.gov)
Another day we drove north from Flagstaff to hit both Wupatki and Sunset Crater National Monuments. Wupatki is probably the largest ruin we saw, and the ball pit was a favorite of the kids. We could only imagine the types of games they played there!


6. Sunset Crater National Monument – Flagstaff, AZ (nps.gov)
Turns out you can pick up the Sunset Crater NM Junior Ranger book at Wupatki, which was great since we hit the Lava Flow before the Visitor Center. Having to drive down and back up just would've been annoying. The jagged, volcanic rocks were fascinating and we had fun identifying the different types. We completed this trip at the Visitor Center where they finished up and passed off their books.

7. Navajo National Monument – Shonto, AZ (nps.gov)
Instead of paying extra to visit Monument Valley or Valley of the Gods (both on tribal lands where our America the Beautiful Pass does not get us in for free) we opted to stop by the lesser-known Navajo National Monument instead. Not too far out of the way between Flagstaff, AZ and Cortez, CO this place is a gem. They also offer backcountry camping where you can hike down to the ruins, participate in a ranger led tour, stay the night, and then hike back up. Definitely on our list for the future!



8. Mesa Verde National Park – Mesa Verde, Colorado (nps.gov)
This site took us out of Arizona and into the southwestern part of CO, but it was close enough in time frame that I'm going to toss it onto the list. Plus, Mesa Verde is just really awesome. Its a fairly big park, but there's a Visitor Center before you even reach the fee booth and you can sign up for tours, get your Jr. Ranger Badge books, and explore the exhibits. Cliff Palace was undergoing extensive construction, so we opted for the smaller Balcony House Ranger led tour. Super proud of our kids for climbing the tall ladders. We have a YouTube video about our tour you can check out below.

There are a few other sites that would fit well into this unit study as well, but honestly, after we finished up with Mesa Verde were mentally done with Native American dwellings for the time being. Hopefully we'll be able to visit this other ones sometime in the future. If you've been to any of these locations, please tell us about your visit!
Hovenweep National Monument – Southern Utah (nps.gov)
Gila Cliff Dwellings National Monument – New Mexico (nps.gov)
Canyon de Chelly National Monument- Chinle, AZ (nps.gov)
Bandelier National Monument – Los Alamos, NM (nps.gov)
Related posts: