After we left Crater Lake, we headed to Bend. We wanted to visit a few things in the area and it was a good place to spend the weekend and attend church. We had heard from some fellow travelers about a boondocking spot on China Hat Road, just south of Bend. It sounded like a great location, so we headed there to check it out.
We found several roads that led off into the trees just inside the forest boundary. We pulled off to the side near one, and unloaded our bikes. We've learned that scoping out boondocking spots BEFORE driving into them is a good idea. Not only a time-saver, it can often avoid getting seriously stuck on a bad road, stuck in a tight spot, or executing a long, painful back-out. Jess and I took off in different directions on bikes, and ended up finding a great little spot under some trees, with only one slightly worrisome section of road to navigate.
We backed into the spot, and immediately fell in love with the spot. Not only was there some trees right next to us for the hammock, we had NO neighbors. I had expected lots of folks out for the holiday weekend, but we were the only campers there. We had a great time in and around bed. Church was only 5 minutes away, which is particularly amazing for a boondocking spot.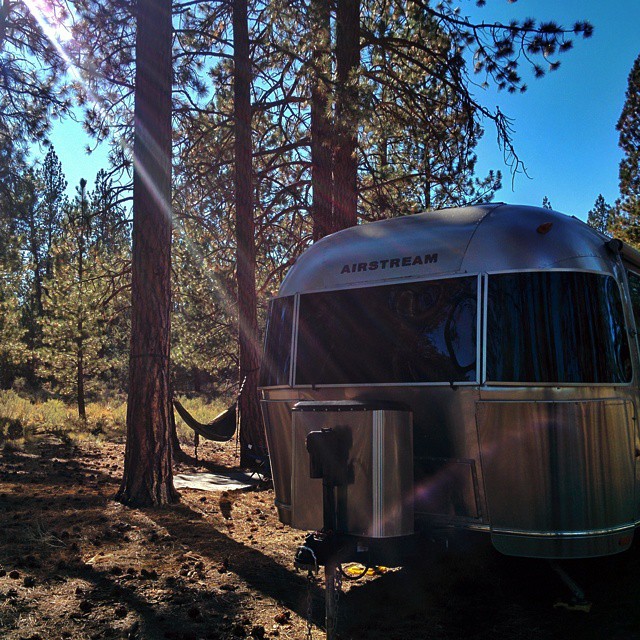 One thing that we did notice is that there was way more garbage about then we usually find in a national forest. During one afternoon there, I grabbed some garbage bags and picked up garbage with the kids. We picked up cans, bottles, cigarrette buts, metal scraps, and even a cat scratching post. In all, we picked up about 6 or 7 small garbage bags of trash.
We later learned that our boondocking spot was a popular place for homeless folks to live. Other travelers had left after one night due to the ambiance of the neighborhood and lots of trash had been a constant problem. For the period just prior to our arrival, the National Forest had been closed for an Invasive Species Eradication. The closure must have cleared out that section, and nobody had returned at the time of our visit. As it was, we rather enjoyed our stay.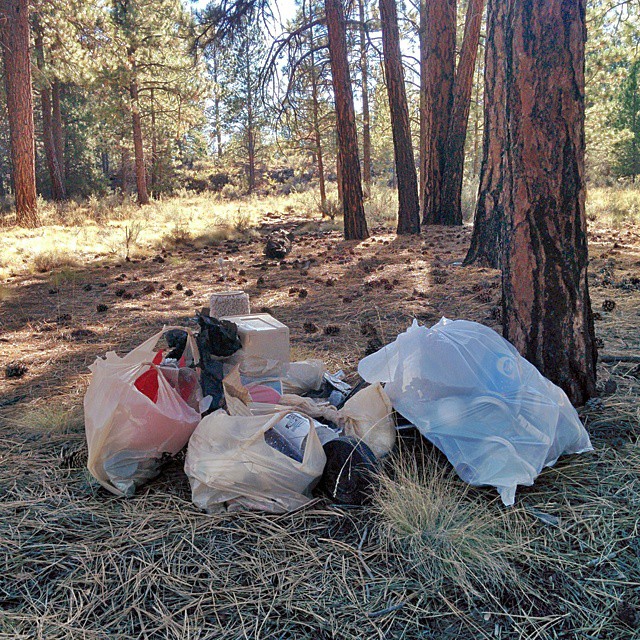 Being a boondocking spot, there was no trash cans or dumpsters nearby, so we hauled the garbage into Bend on our way out. We looked for some place to throw it away as we ran our errands. Every dumpster we found had a warning sign that unauthorized use would be prosecuted. Not wanting to complicate our day, we kept looking. Our final errand was to fill the gas tank before our drive. I was pondering our situation when I spotted a cop parked in the parking lot nearby.
I pulled up alongside the cop and rolled down the window. After explaining our predicament, we got a smile in return. "You are clearly doing more good than harm here, " he said. He glanced at his laptop. "There are 7 officers in the city right now, and none of us would cite you for dumping that trash in someone else's dumpster."
Well, Thank You Officer. We drove by the nearest garbage can on the way out of town. We ignored the sign, opened the gate, and unloaded our pile of garbage from the back of the truck. It was quite refreshing to find someone understanding and willing to help us remove garbage from the forest, even if it was technically 'against the rules.'
It felt good to do a little cleaning during a visit to a National Forest. Unfortunately, on a stop at the same spot a few months later, we discovered plenty more garbage that had accumulated. We didn't get a chance to clean much that visit, as we were evicted by Forest Rangers. But that is a different story!
Related posts: