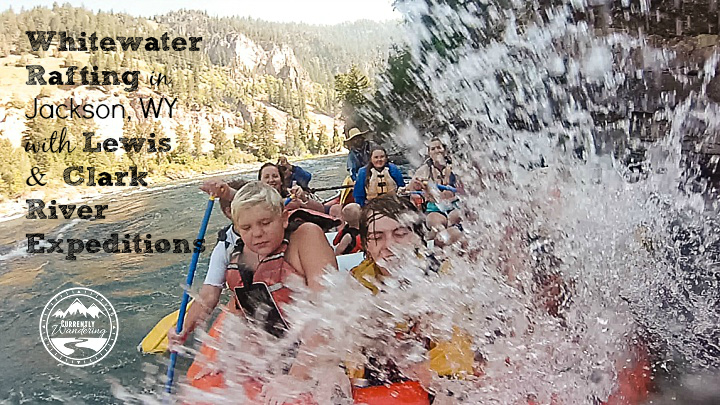 While attending college at Brigham Young University in Provo, Utah, I worked as a rafting guide for Outdoors Unlimited on the daily section of the Green River. I spent many a weekend in the summer sleeping out under the stars by night and navigating or swimming the rapids by day. I learned to soak up the sights, smells, and sounds of the river and passionately love rafting as an outdoor sport.
Naturally I've been anxious to introduce my kids to rafting and this summer we were able to do just that! While we *probably* could have rented gear and navigated this 8 mile section of the Snake River ourselves, we chose to go with an outfitter. Rafting independently is great, but we'd also have to rent gear and arrange a shuttle. As this was our first trip with the kids we were unsure how they would respond and wanted to be prepared with someone experienced and make the entire thing as easy as possible. Most rafting companies have a minimum age of 6, and Cara reached that milestone in May 2016 so we were good to go!
We chose to go with Lewis & Clark River Expeditions based out of Jackson, WY. Its a smaller, family run company and they were a dream to work with. Our timing was fabulous as Karen (the owner)  had just talked with a marketing strategist who recommend teaming up with an outdoor blogger to do a collaboration. Total win-win situation!
We signed up for the early bird 8:00 am trip which included a hot breakfast before leaving on the bus for the boat launch. Nothing gets you excited for the river like a hot egg, bacon, muffin, and orange juice feast! Despite the early hour, Karen assured me the weather would warm up by the time we got on the water and there's usually fewer boats, less crowds and more wildlife in the morning. Plus, better light for photos which is always a plus for me!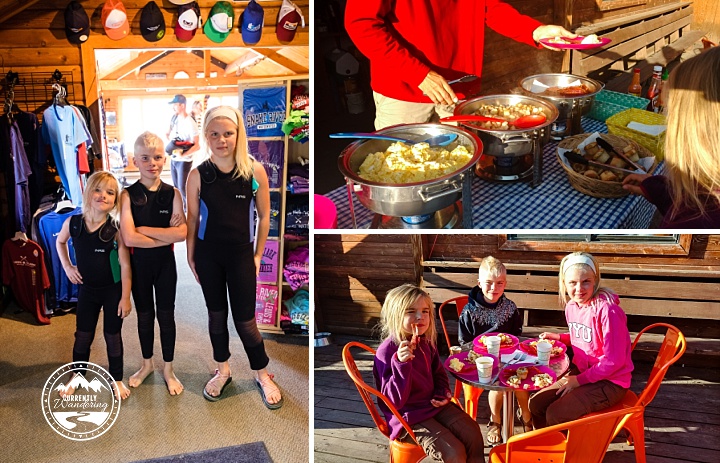 Once done eating, our group took over the back of the bus for the 30 minute ride up the canyon to the put in at West Gulch. Once we arrived we had a short orientation, we all went to the bathroom, donned our rain shells & life jackets and were assigned a guide and a boat. Then it was time to shove off! We had a short stretch of flat water where our guide, Aaron, went over some safety protocol and we practiced paddling while following instructions. Aaron steers the boat, but all the power comes from the paddlers – us!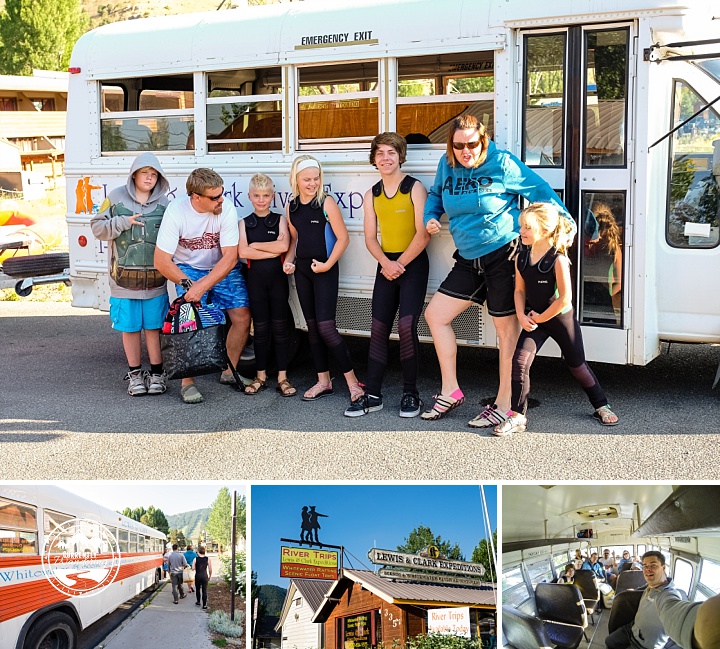 Aaron is an awesome river guide – the right balance between keeping us safe and being chill about having quite a few people in his boat. He nailed all the rapids at great angles to soak all the teenagers sitting in the front of the boat and everyone had a great ride! He's been working with the company for over 10 years and I could tell he absolutely loves his job.
Lewis & Clark provides free wet suits for the kids 12 and under which we gladly used. There's a flat water section during a lull in rapids about halfway through the trip and after getting the thumbs up from our guide we all bailed out of the boat into the cold water for a quick swim. Once the rain shells came off, they didn't go back on.

The rafting lasted about an hour and half and we arrived at the take out all too soon. The best part about river rafting is that the ride can change depending on when you go and the river levels. Earlier in the season can be very different than a run later in the season. Big Kahuna and Lunch Counter rapids compete for the title of largest rapid at various water levels. I think no matter what time you go, the ride will be enjoyable. The scenery is gorgeous, and we were even able to see a few young bald eagles!



At the take out there's a short walk/hike up to the bus where we took advantage of the restrooms and changing rooms. We were able to leave our dry clothes, towels, and anything else we needed on the bus since they just park and wait for us at that take out. We fished out some snacks for the drive back and although the kids were totally pumped from the experience I could tell they were also tired!
If you've never been rafting, this is a great river to get your feet wet (pun intended!). Its a shorter ride and there are plenty of outfitters to choose from in Jackson, although we can't recommend Lewis & Clark enough. We couldn't have been happier about our experience on the river, and the smiles on my kids' faces made this outdoor adventure momma a happy camper!

We've already had people ask us how we got the photos we did – let's just say my brother-in-law is a genius. We both had GoPro's but the best photos came from his on a selfie stick out in front of the raft. We primary left them on video mode and then used the GoPro computer software to screen capture. So much easier than trying to nail the shot while you are being doused with water while going through a rapid!

I also had my Fuji X-T10 with us in a dry bag, but don't recommend taking a "real" camera. They don't encourage dry bags or any extra stuff on your trip in case it gets swept overboard!

Float0graphs has photographers at Big Kahuna to capture your group in action! We were given these as part of our blogger experience, but as a photographer, I can vouch for how awesome it is to have great photos of your entire group. Totally worth it.

List of photography equipment:

GoPro Hero 3+
Backdoor Replacement Housing
Wasabi Extended Battery
Floating Handgrip
GoPro Head Strap Mount
QuickPod Selfie Stick
Related posts: