Let's be honest. Potty training your youngest child while traveling 2700 miles across 11 states is not ideal. Not even close to ideal, in fact its downright crazy. But what in our life isn't crazy these days? I have seriously been trying to potty train this girl for over a year. We've tried on and off and maybe because she's my last (not ready to let go?) or my most stubborn (not willing to duke it out with her?) it just hasn't clicked. "She's not ready" and "We'll try again when she's a little older" are my most common excuses.
Fast forward to 2 weeks before we leave. I desperately realize that having her still in diapers will be not ideal. So, it's GO time. I'm going to get this DONE once and for all and then we will never have to buy another diaper again. I can totally do it in 2 weeks. My friends have managed to train in 2 days – so I have given myself plenty of time.
Not so much. I became so stressed, unhappy, and hating my life that I decided it just wasn't worth it. I put the panties away, pulled out the Pull-ups again (gasp! I know!) and decided that when she wanted to, she would. And guess what? She did! The next day! I about fainted when Sam called to tell me Cara had gone upstairs and taken care of business all by herself.
We've not been without our accidents, but she's actually doing quite well. The BEST thing I ever bought for this was a travel potty seat. This thing is a LIFE SAVER. I kid you not. Not only does she love it (who doesn't love frogs, right??) it helps her to not be scared when we pull into the mangiest gas station in the middle of nowhere Nebraska and cheerful say "Okay Cara!! Time to go potty!" She tends to walk into the bathroom, look at the nasty toilet and say "No, mommy. I don't need to go." Luckily the frogs coax it right out of her. And it even comes with a nice little travel bag to keep it clean. Brilliant I tell you!
So, next road trip with a potty training child? You definitely need one.
Don't we look amazing while we road trip?! Leaving Utah & Cara "driving the car"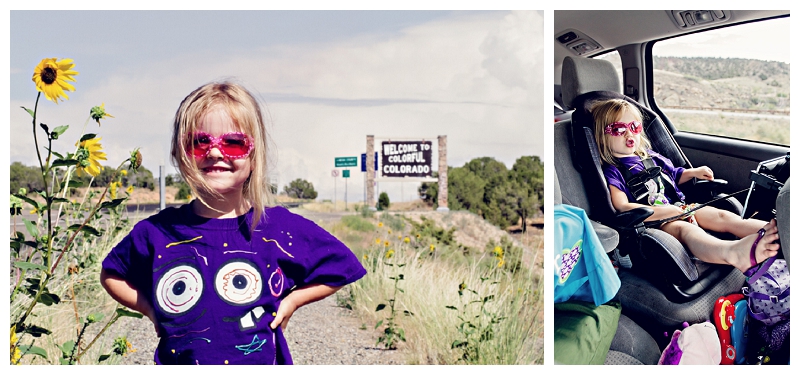 Related posts: