I'm not sure when exactly Cara became obsessed with Buzz Lightyear. I think I may have casually mentioned last year that she should have a Buzz Lightyear Party when she turned 3 years old. From there, her love of Buzz just exploded and we encouraged it. For some reason, I love that she's not in to princesses. They've never particularly excited me, but to have her love something so unexpected is just fun.
She was also given a Buzz Lightyear costume from a friend at the same time, and although she didn't love to wear the whole costume, the Buzz wings were perfect. Easy to put on and fun to wear. Once we got to Virginia, she started wearing them everywhere and it was so fun to watch the Asian tourists at the National Mall point to her and smile.
The first ride we went on in Disneyland was Buzz's Astro Blasters. As you exit the Astro Blasters, the gift shop is full of awesome Buzz Lightyear and Toy Story paraphernalia. We found a zip up hoodie jacket that she looked adorable in, but couldn't stomach the $50 price tag so decided to wait. I'm so glad we did. On day #2 over in California Adventure we found a t-shirt for the low price of $22 that worked perfectly. As we are headed into summer and warmer weather, she'll wear it a lot more too.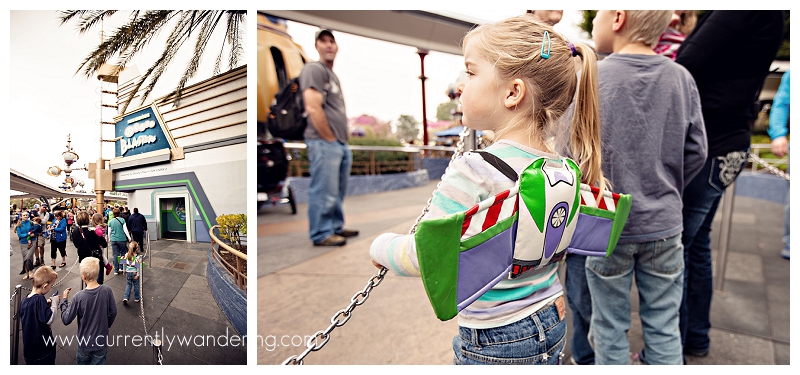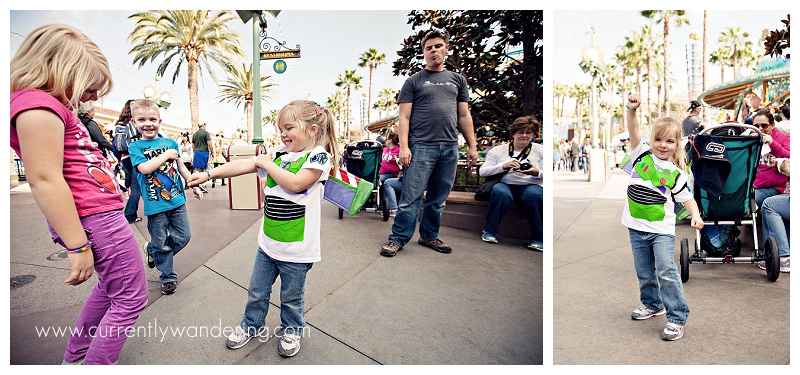 We knew going in to Disneyland that meeting Buzz would be a highlight for her. Day #3 started in California Adventure and having spoken with some of the character handlers I knew Buzz's location was behind the Screamin' roller coaster along the Midway Games section. We wandered over that way around lunch and were disappointed to see Jesse out for her photo op (we had already seen her in Disneyland and Cara was not impressed).  As I went up to ask when Buzz would be coming, like magic he walked out of the staging area. I've never seen Cara more excited. We hurriedly got in line and patiently waited for our turn.
You. Guys. It was PERFECT. So perfect it made me ridiculously happy for her. Buzz was SO great. He reacted to her shirt and wings, was totally "shocked" that Cara looked just like him and Cara just ate it up. The girl didn't stop grinning.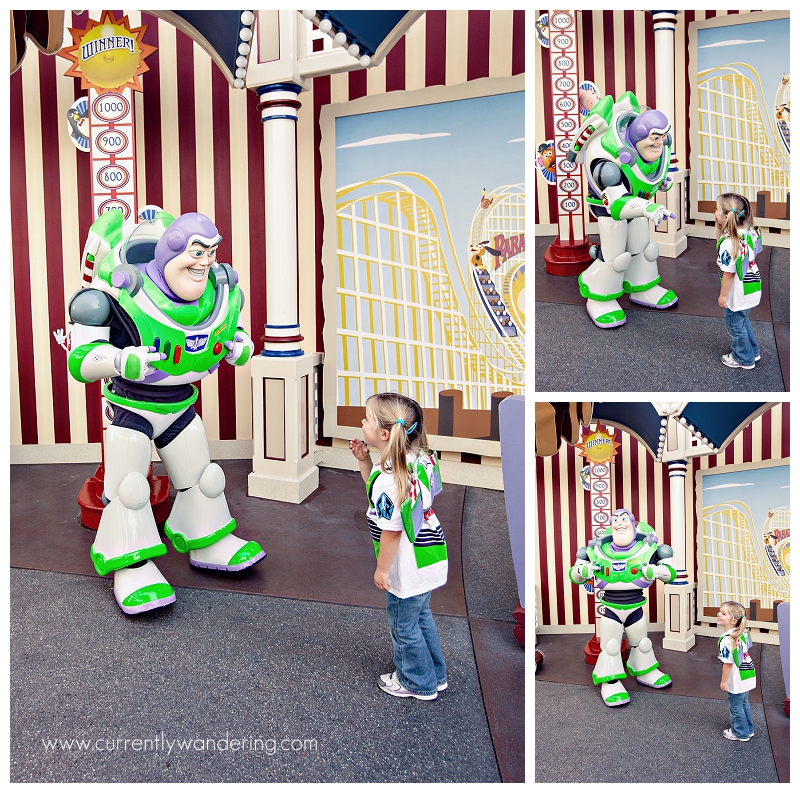 Oh -and the way she looked at him? Pure Joy.

To Infinity and Beyond!

Its moments like this that make me so happy to be a parent. At that moment, watching her excitement and happiness, it was worth every penny we spent to be there.

Related posts: