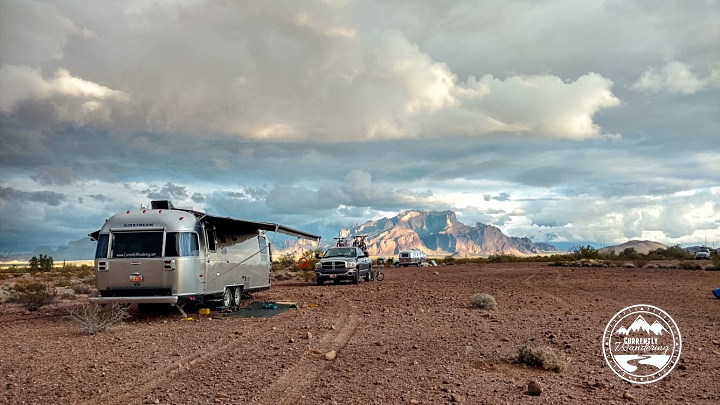 If you've followed us for any length of time, you've probably realized we move fairly frequently. We aren't the type of travelers to sit in place for weeks on end, but are fueled by getting out and discovering new places.
It's exhausting.
One of our goals this winter was to find free boondocking spots in the middle of the desert and just "be".  Learn to relax and not be on the go all the time. I feel that perhaps a bit of the pressure to explore exotic and new places comes from social media. There's always that pressure to post the next "amazing" photo, and I seem to struggle the most with the ability to let go.
Travel Dates: December 29, 2016 – January 4, 2017
As we sat in the Kofa desert near Quartszite, AZ for New Year's Eve I had a chance to do exactly what we intended. It was difficult. I was antsy for a few days, even angry more than once. We were surrounded by amazing friends, yet I still struggled.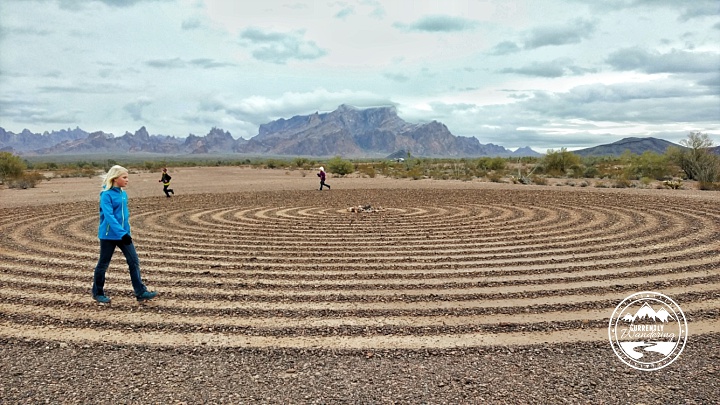 "Sometimes it feels like we are going in circles."

"Being out in the desert has been fantastic – have you ever smelled creosote bushes after a rainstorm? 😍 At the same time I've been digging deep and trying to discover why I couldn't just boondock for weeks at a time like some of our friends can.

I think it comes down to being bored. There's really nothing out here. We went on the 1 mile "hike" up Palm Canyon, looked for quartz crystals, and visited the spiral labyrinth. And…That's about all there is. There's not really even a proper grocery store in the nearest town about 20 minutes away. But why does that matter? Why can't I just be?

I think I pressure myself to provide opportunities for my kids and my expectations have inflated in the process. Exploring has taken the place of soccer, dance classes, or piano so when there's nothing to explore I just feel empty and impatient. We've tried to expand our collection of outside toys so that I can just send my kids outside to play, but it's still hard. For some reason that's not enough for me. It's not good enough. Not interesting enough. Not epic enough to reflect the lifestyle we are living.

I'm hoping this winter I can change. Not everyday needs to be epic hikes or science museums. I hope I can be content to sit outside and read, or throw around a frisbee with my kids. That just being together is enough. Less focusing on social expectations of our life and more being content with who I am."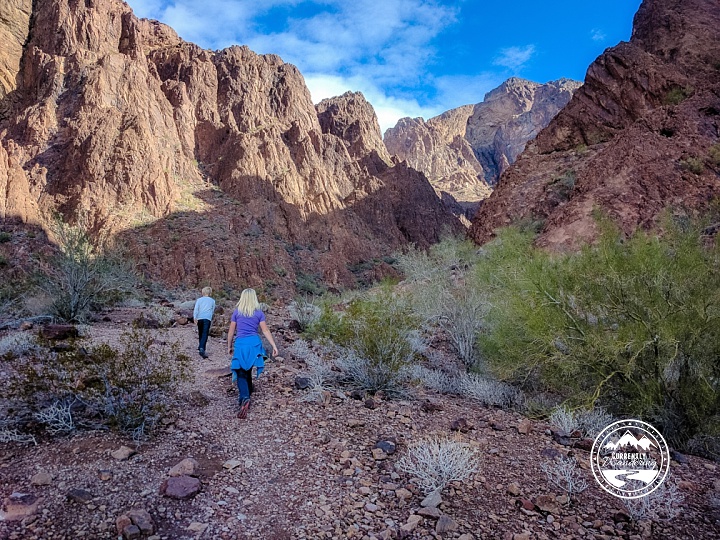 One afternoon we completed the only "hike" the area. An easy 2 mile round trip up Palm Canyon. We arrived back to the truck thinking that wasn't "enough" but maybe it was.

Stephanie & Gus (@stephaniewv81 & @gm3sf) spearheaded a New Year's Eve Potluck dinner. We gathered as nomads and feasted on chicken pot pie, cornbread, tacos, bean dip, chili, salad, and plenty of dessert.  Sam and I didn't make it until midnight (hard to see the point when there's 9am church the following morning!) but we enjoyed the time we had chatting around the propane campfire and swapping stories.


Living in a community of nomads for a week is vastly entertaining. Everyone has work (and sometimes school) to accomplish during the day and we often keep to ourselves. Evenings were spent playing games (thanks to everyone who helped us out with our prototype card game!), hanging out in trailers with a grand lounge, or playing frisbee before dinner. Our kids especially loved playing with Gus & Stephanie's dog Gracie. She's super cute and little and the kids all agreed we needed a dog her size. Sam and I disagreed.
We celebrated one final evening together at the local pizza joint in honor of Heather's birthday (@h_livingistheadventure). Armed with noise makers, cake, & ice cream we took up an entire corner of the restaurant and probably brought the average age down a decade or two as Quartszite is a popular place for retirees in the winter.

"Morning in the Airstream often looks like this. Andrew snuggling @jesscurren in our bed, Cara getting started on schoolwork, and a few dishes that didn't get washed last night. I get to watch the morning unfold as I work from the table." -@telegramsam
As it came time for most of us to move on I honestly became nostaglic. I enjoyed having friends close by without the pressure to really "do" anything. There were a few evenings Sam and I snuggled under a blanket outside in our camping chairs and gazed in awe at all the stars.
I think I finally started to relax. I'm hoping we can have more experiences like that this winter and can't wait to meet up with our friends again down the road.
Related posts: