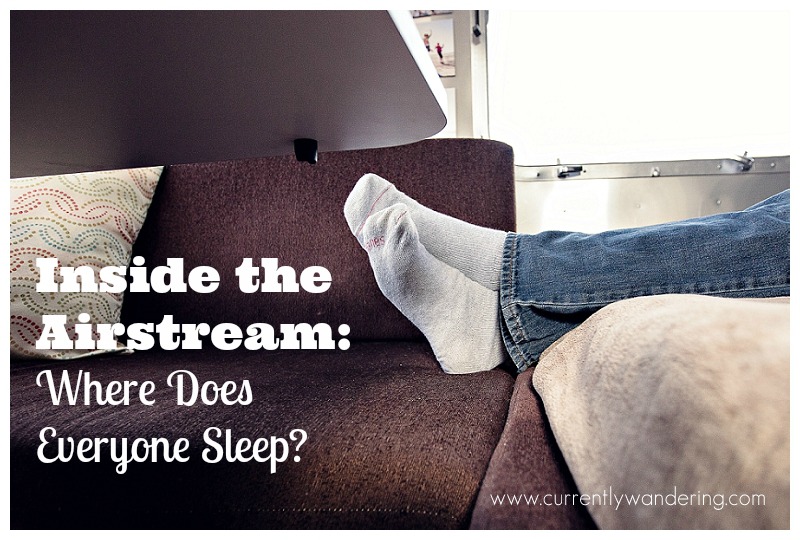 We had an Instagram follower ask us to detail where everyone sleeps in our 27FB International Airstream. I am more than happy to oblige. After we picked up the Airstream back in September 2013, we spent 8 days on the return trip from llinois back to Virginia. I'm pretty sure in those 8 days we tried every sleeping configuration possible. Fortunately, the short Queen bed in the Airstream had custom sheets the previous owner gave us, as well as two fleece sleeping bag blanket things. The weather was still pretty warm, so between the sheets, the blankets, and the hot weather we figured we'd last until we got back and could figure out what we wanted to do long term.
We tried converting the dinette into a bed and sleeping all the kids out in the "living" space with us on the queen bed. We tried all 3 kids in the queen bed (Cara apparently kicks in her sleep) and us out on the dinette. Then us on the gaucho (couch that pulls out into a bed). The kids on the gaucho. The kids on the floor. You get the idea. Our best configuration, by far, is the one we are currently using.
Where do the kids sleep?
ETA: This was our original layout. We have since remodeled our bedroom area and put in separate beds for the kids. See Part I of that process here.
The "FB" designation in the Airstream model stands for "front bed". There are many layouts to choose from, but this was definitely our favorite. So those panaorma windows you see above the bed are the front of the Airstream with the hitch right below those windows. The door to enter the Airstream is in the back at the other end.
We gave up the queen bed for the kids. Sigh. Coming from a California King at our home in Utah, that was a pretty big sacrifice at first. The bedroom is also a nice enclosed space once you pull the curtain that divides it from the rest of the Airstream. What we realized pretty quickly, however, is that we can close off the kids at night and still have relative freedom ourselves instead of being "trapped" in the back while the kids are sleeping in the kitchen (midnight ice cream snack anyone?). Rachel and Andrew sleep on the queen, and generally do a good job of not hogging the covers. They each have their own pillows, blankets, and stuffed animals that I make them put away every morning so I can still have some semblance of a pretty bed. Mean, aren't I? It is honestly still too cluttered for me, but I just keep reminding myself that its a kids' bedroom and there's bound to be clutter. They also enjoy their reading lights, as they usually read for about a half an hour before lights out every night.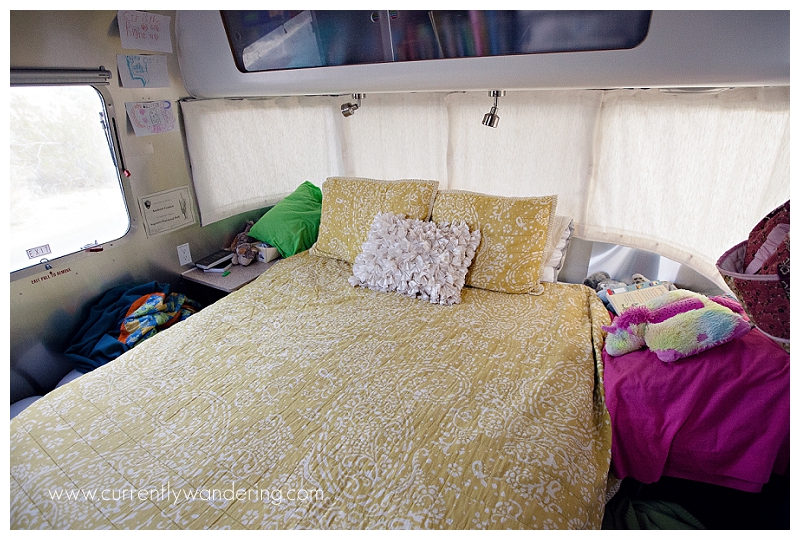 Cara sleeps on the floor in her "secret hideout" and absolutely loves it. There is just enough space between the queen bed and the wall of the Airstream to fit a Thermarest sleeping pad and her sleeping bag. Her Thermarest is inside one of those gray,  fleece, sleeping bag, blanket things I mentioned earlier, and she has her sleeping bag on top. That way she has some protection against the chill of the Thermarest and it doesn't slide around. She usually has a stack of boardbooks, her dreamlight, and few stuffed animals lying around as well. To really make it a "secret hideout" involves taking the laundry basket and placing it between the bed and wall to hide her from view. Sleeping Cara here was not something we thought would work, but from the very first night, she loved it. As the weather turned colder, we've often checked to see that she is warm enough, and every time she has been as snug as a bug.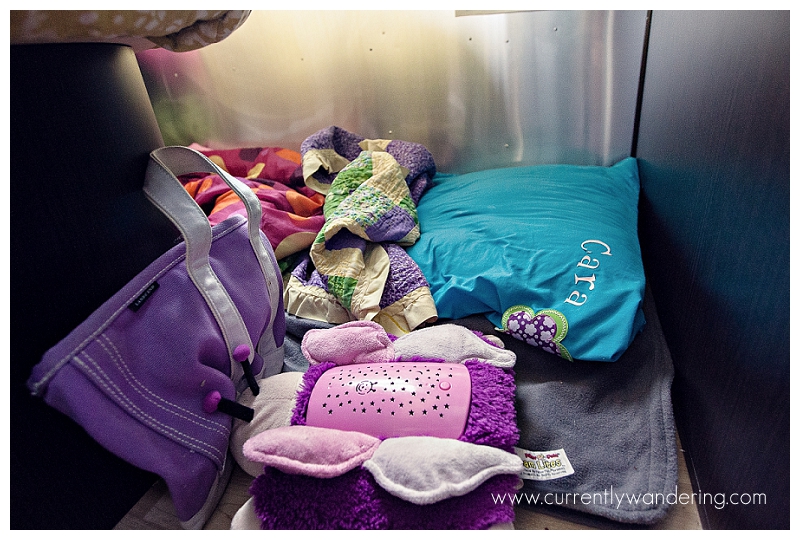 Where do WE sleep?
Sam and I sleep out on the gaucho. There's a board that slides out from under the couch, extending it, and then you just lay the cushions flat. Pretty ingenious design in my opinion. It doesn't take us very long, so the hassle factor isn't high. The total bed space is smaller than a double bed, but it turns out we really just don't mind. We slept on a double bed the 4 months we were in New Zealand (just after we were married) and I feel like I have plenty of space. Sam's story might vary slightly as he sleeps against the cold wall and I'm known to be a bit of a bed hog. [ Note from Sam: I prefer to sleep colder than Jess does, so being next to the wall is probably better. Jess IS a bed hog, but with a smaller bed, that means we get to snuggle more. 🙂 ]
We did try to sleep on the dinette space for a couple of nights, but wrangling the table down while holding the cushions out of the way got old really quickly. Plus, that space, while longer, is a bit narrower and we felt a little cramped. Our feet do hang off the bed a bit, but with our top sheet velcroed underneath, our feet stay warm. Sleeping on the outside, I generally am at an angle so my feet can rest on the dinette cushions tucked in close to Sam's. See? We get to play footsie all night long. How adorable.

For the trip back from Illinois, we slept just on the existing cushions and quickly realized that wasn't enough padding. I have back problems (3 pregnancies will do that to you) so we definitely needed something with a little more cushion. We bought a 3 inch memory foam double mattress topper from Costco and used a sharp kitchen knife to cut it down to size. Using the included mattress cover + one we bought from Target we sewed together a sleeve for the pad since that thing sheds like crazy. We then got creative with a set of sheets and some Velcro and fastened together a bedroll that we can easily unroll every night. We also bought a fleece blanket from Costco, and it is amazingly warm and comfortable for how thin it is!
Sam and I get up in the mornings around 5:30am to work at the table, and the kids come out at 7am. The biggest downside of a small adult bed is that there is not enough room for us all to cuddle. I love it when my kids come climb in bed with me in the morning and we take 20 minutes to wake up together. These days we just take turns, and it works out okay.

Every morning, we roll up our bed, wrap our Fastex buckle straps around it, and dump it on the opposite side of the queen from Cara's spot. It is generally out of the way and Cara can still take a nap on her bed if we think she needs it.

We have plans to remodel the bedroom area and either put in bunkbeds for all of us, or create a more U-shaped configuration of 3 beds for the kids while we still sleep out on the gaucho. Nothing has been decided for sure, except that whatever we do will happen when we get back to Utah in the spring and Sam has access to all his tools.
While not the perfect arrangement, it works for now. Everyone gets enough sleep, Sam gets enough work in, and most mornings I'm so cozy I can barely drag myself out of bed.
Related posts: